Rc Route
Armeniana – Panagia Kera – Amari
Way to Assomathianos Campos valley and the village of Amari
Rc Route offers a unique opportunity to go through countless olive groves and discover on your way remarkable churches of Byzantine architecture. The highlight of the route is the famous church of Panagia Kera in Assomathianos Campos valley, while your interest will be attracted too by the picturesque village of Amari. Τhis village is one of the most beautiful in Crete. Impressive along the way are the age-old olives with incredibly thick trunks.
Note to bikers! Pathways unsuitable for bikes are avoided by choosing dirt road sections.
The route at a glance
Start / End: Point 18 in Armeniana, near

Agios Georgios
Direction:

Forth /

Back
Distance:


4,43 Km |


4,50 Km
Duration:


1h18′ /


According to your skills
Degree:


leisurely (experienced hikers) /


moderate (skilled bikers)
Altitude: 410m

344m

459m

310m | Drop: +198m -198m


Red line: foot path /

Green line: dirt or paved road.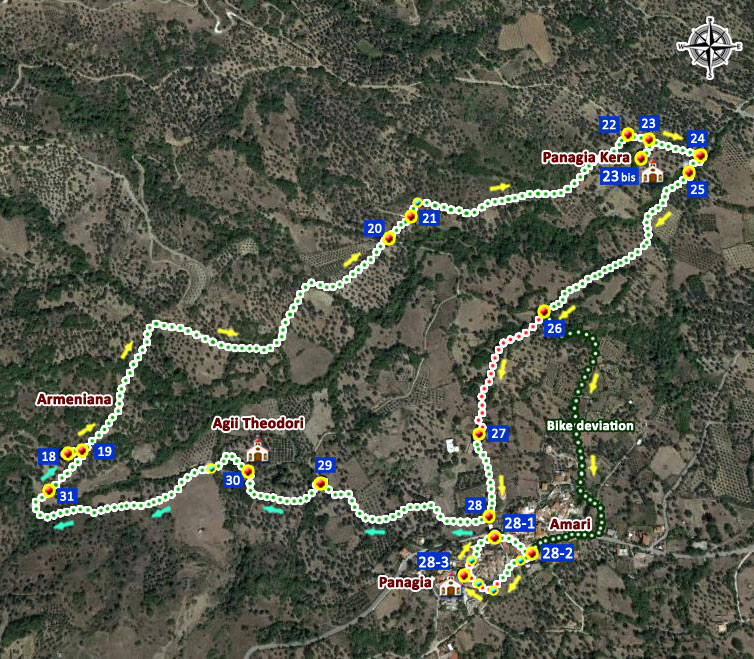 Rc Route localization

Lon 35.227384° Lat 24.637593°
Municipality of Amari 74061 Crete
Route map and elevation profile



Rc Route Road book