Wild Nature Eco Lodge Camp
A one-of-a-kind campsite in Crete
We close on October 31, 2022
Wild Nature Eco Lodge Camp
Camping in comfort
Experience Crete's unique natural beauty while staying in the one-of-a-kind "Wild Nature Eco Lodge Camp" near the picturesque village of Meronas in Amari.
A camp that fits harmoniously in its natural environment, in the heart of a lush oak forest.
Indulge yourself in the camp's magical and peaceful environment and enjoy the special atmosphere created by the spacious wooden and canvas Lodges.
An amazing experience!
Nested in the middle of Cretan nature, this eco-lodge is not only a beautiful spot but also the starting point of so many amazing treks and wildlife experiences.
The lodges are superb, as clean as it gets, very comfortable. Hospitality is refined and caring, with a special mention to the owners.
Really worth the (ideally long) stay.
JayeBeCee
Trip Advisor, October 2019
Meronas village
Nestled on the southeastern slopes of Mount Panaori, at an altitude of 630m, Meronas enjoys a beautiful view of the Amari Valley, and the mountains of Psiloritis, Samitos and Kedros.
Meronas is the 4th largest village in Amari – among 42 inhabited communities – with 120 permanent residents. It is a typical village of the Cretan hinterland with a central square, narrow streets, fountains of crystal clear water and numerous C13th and C14th churches.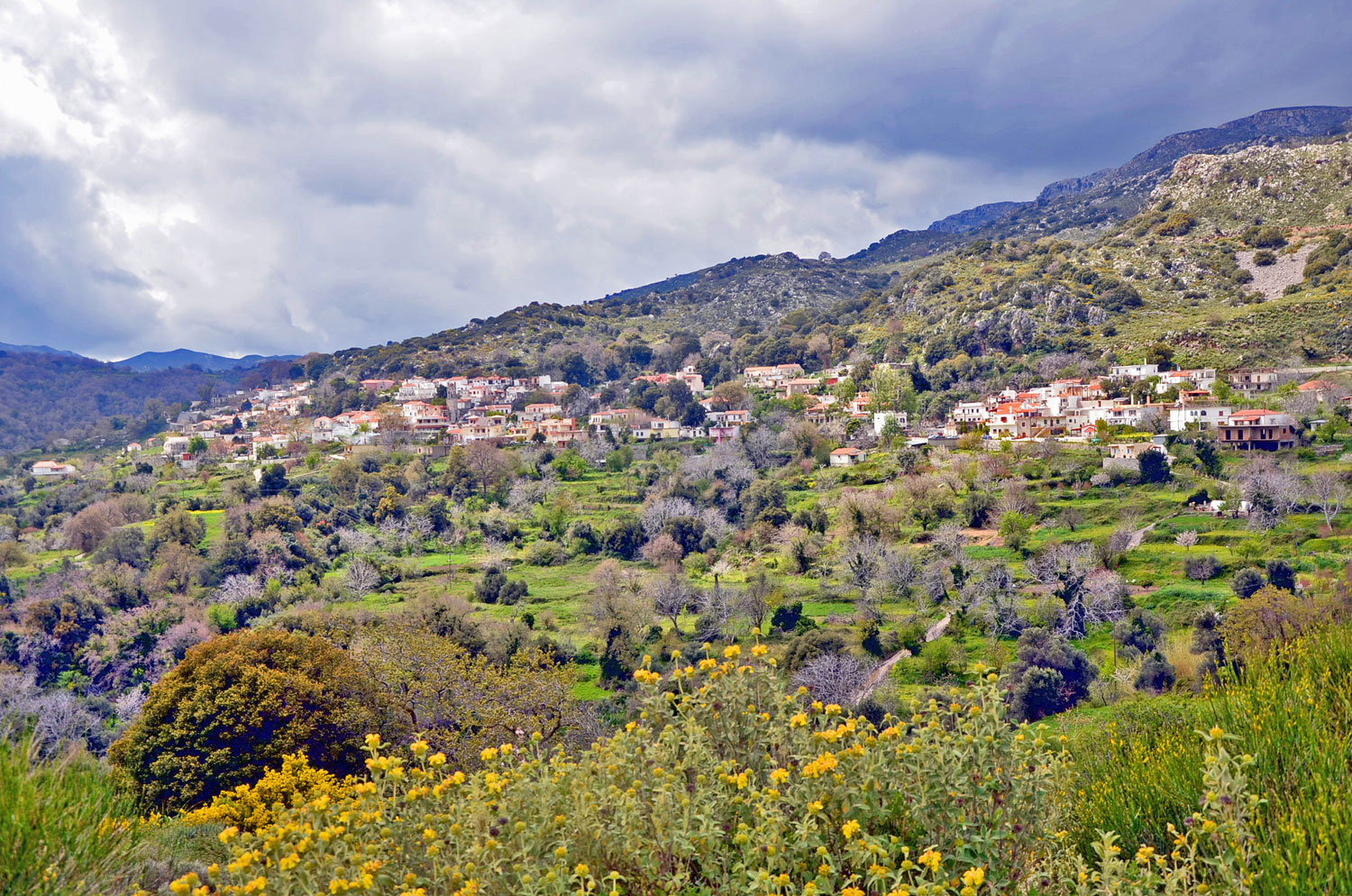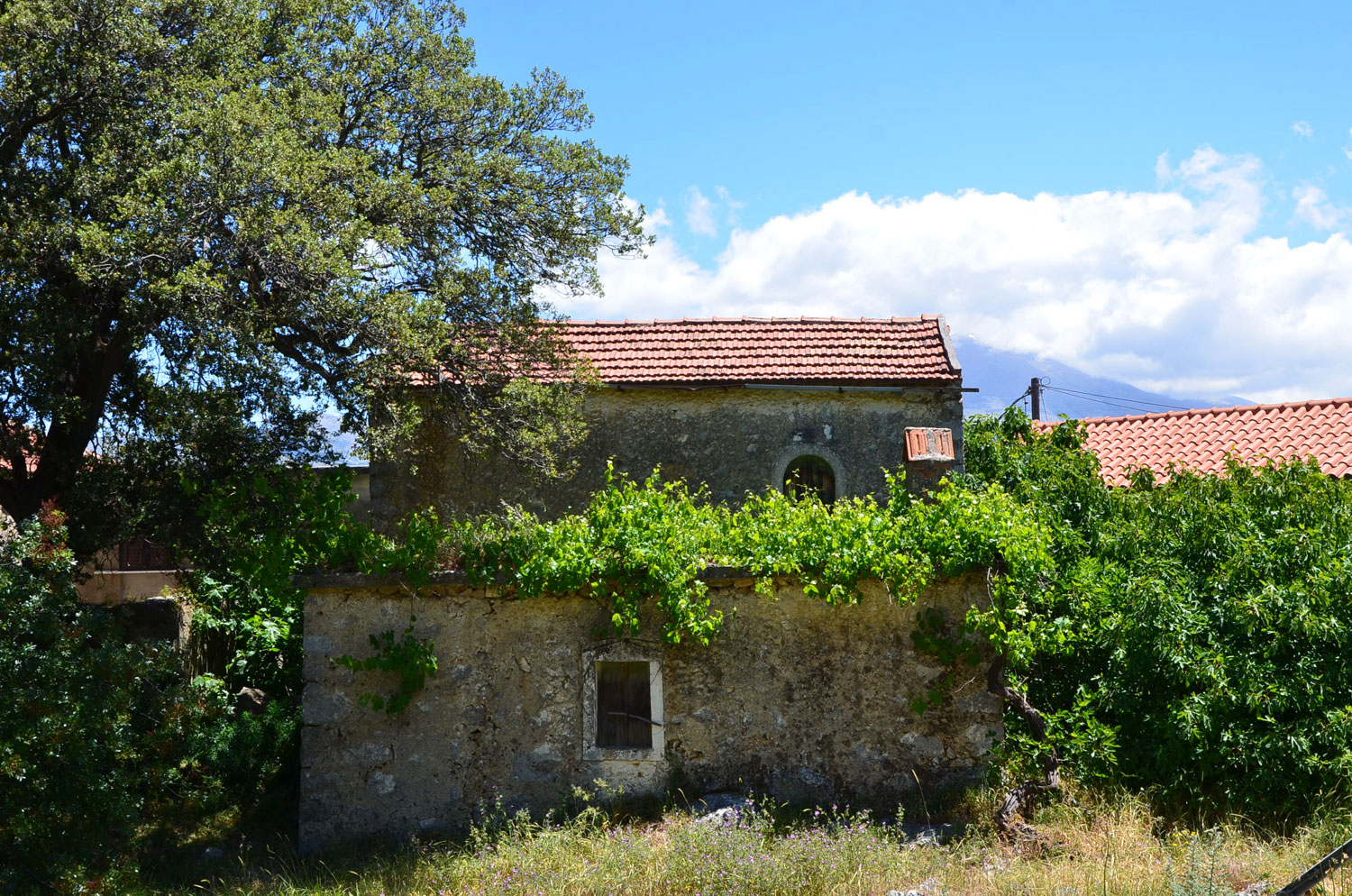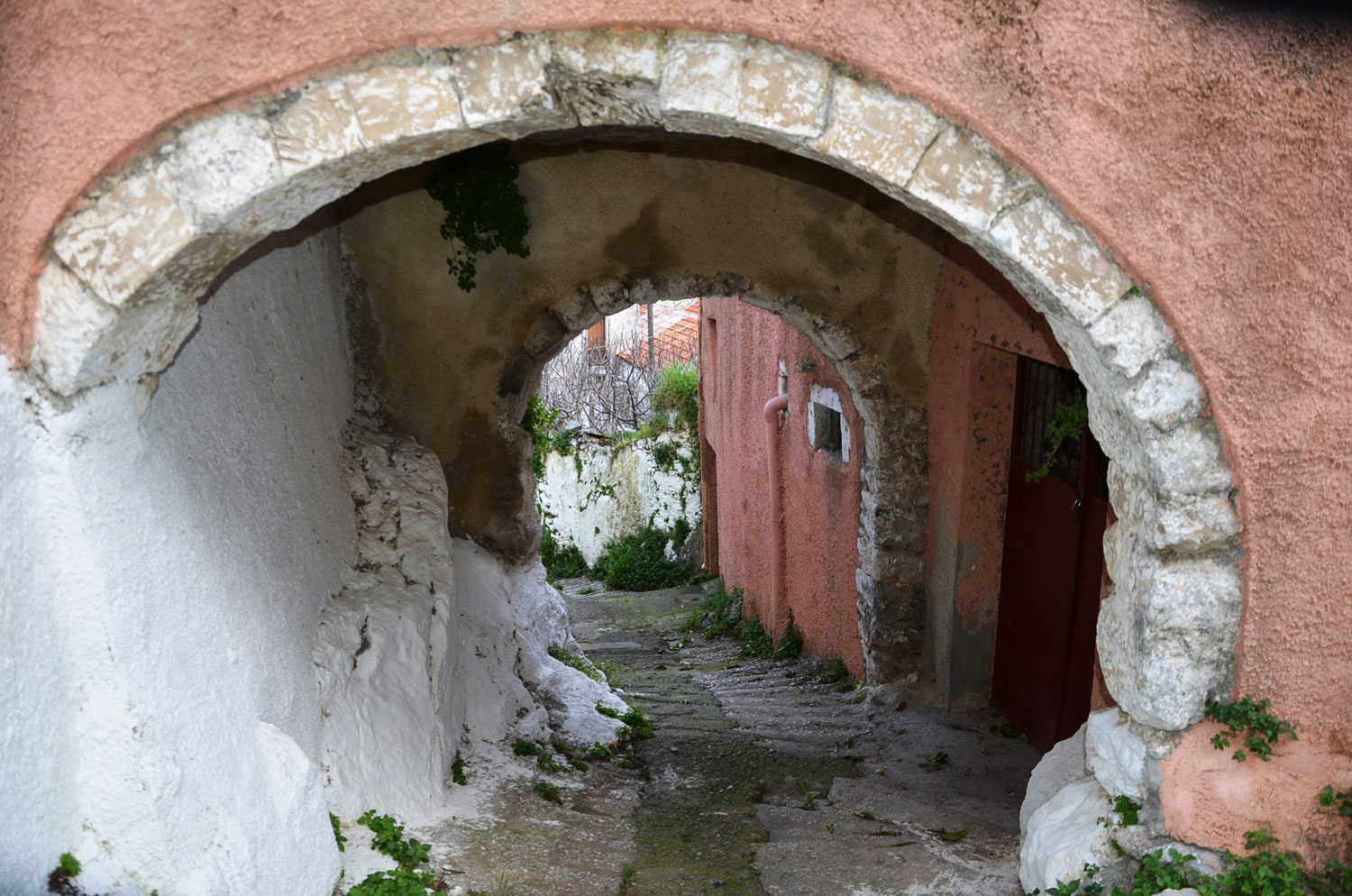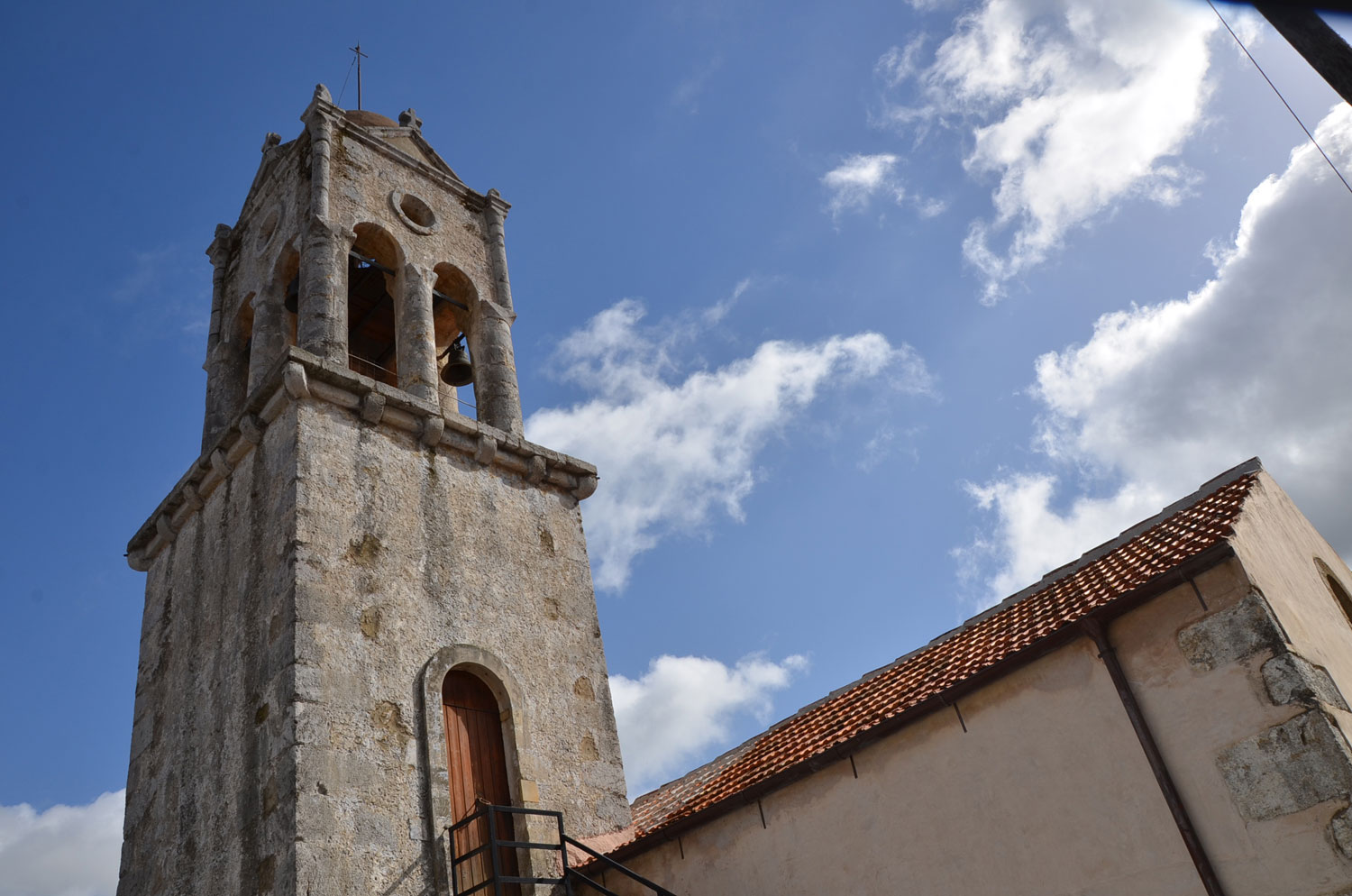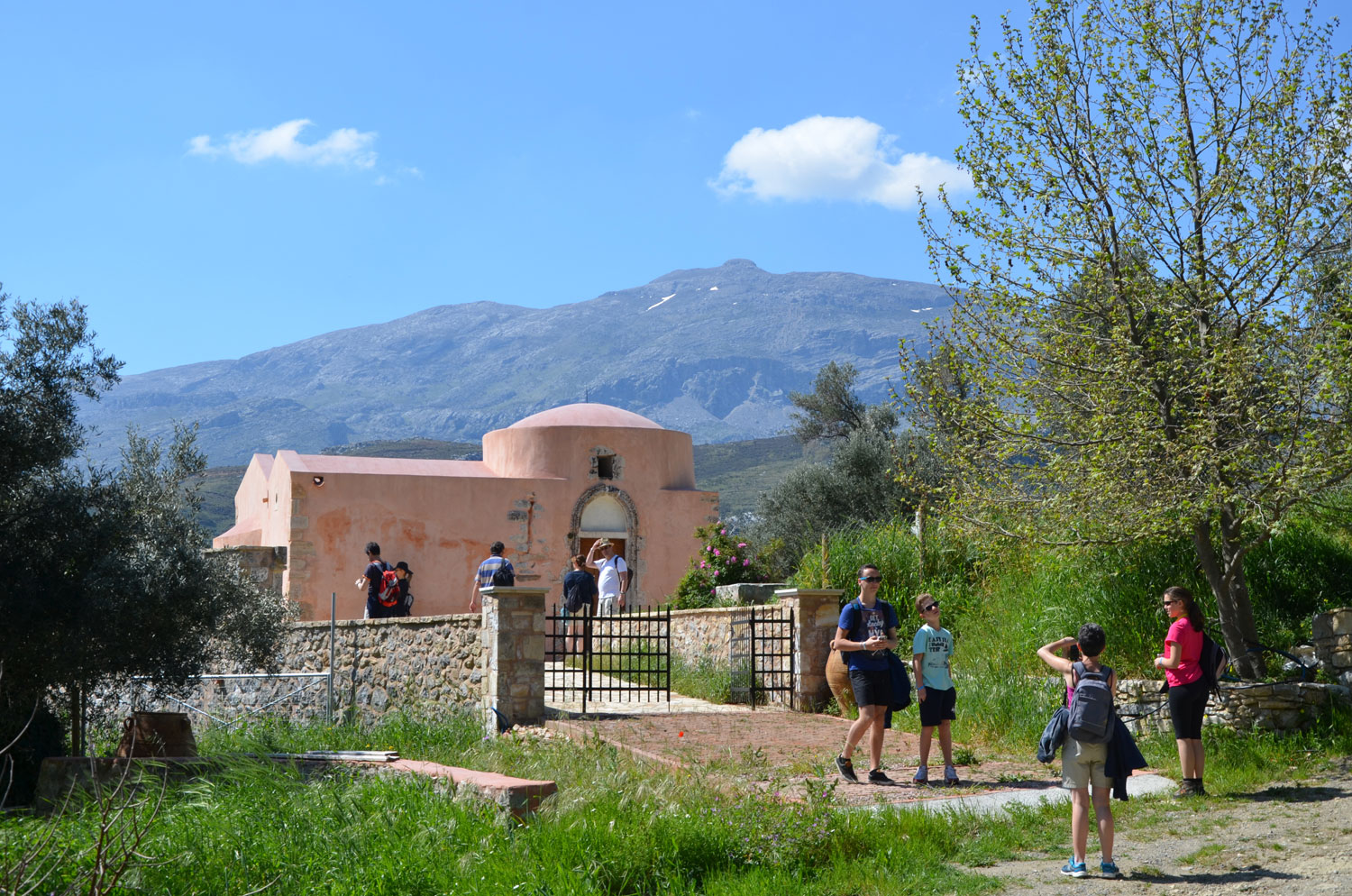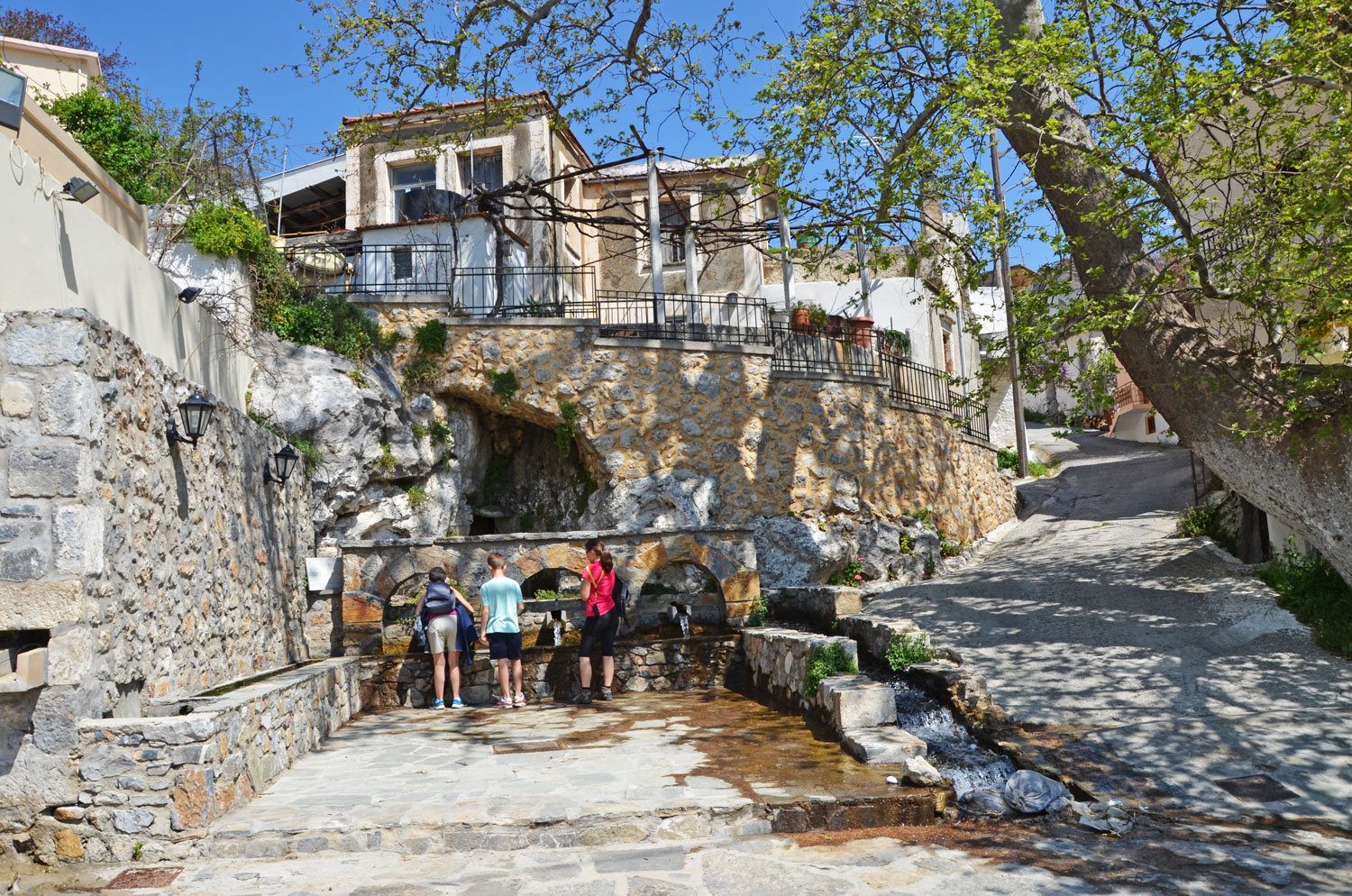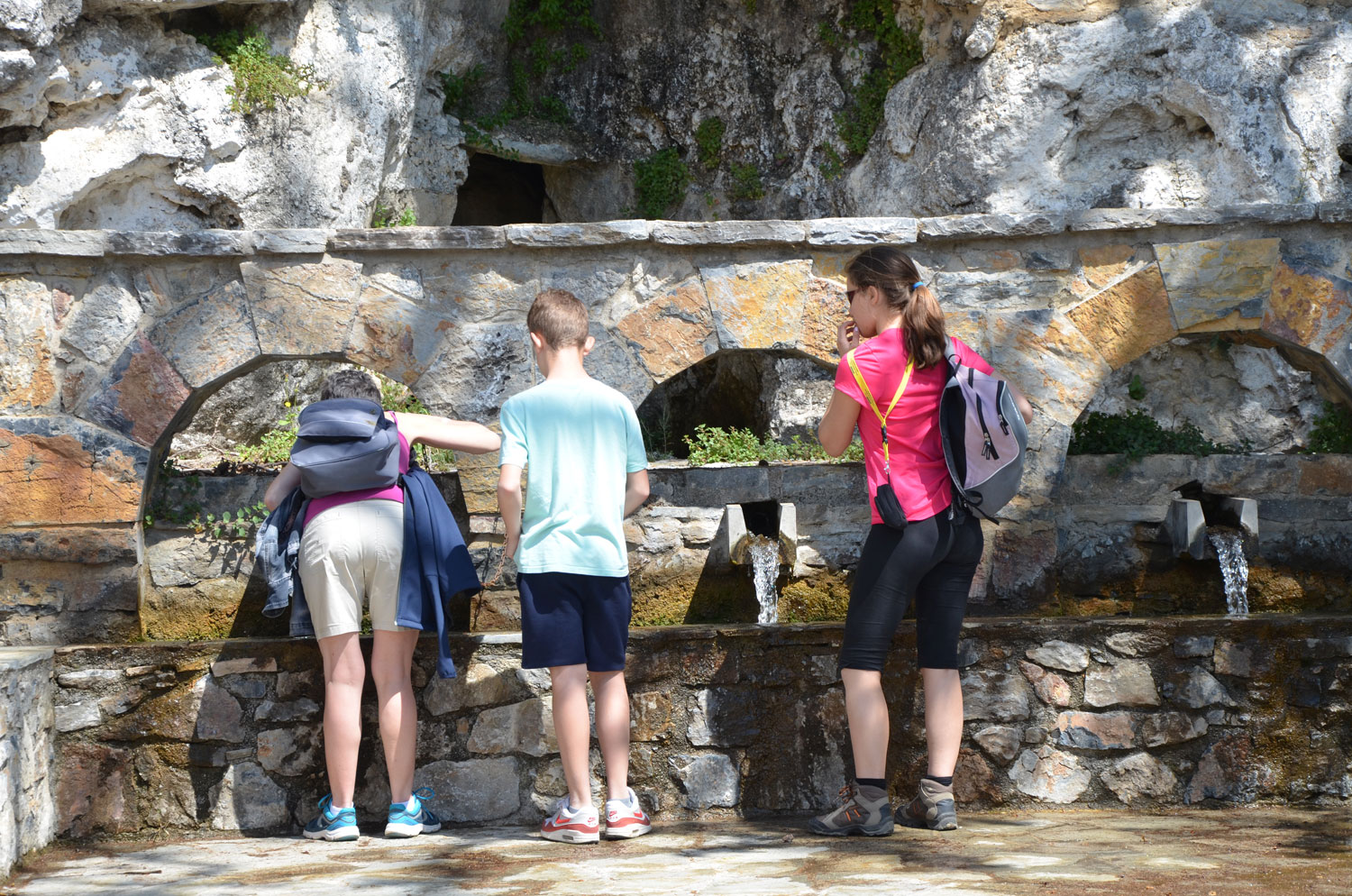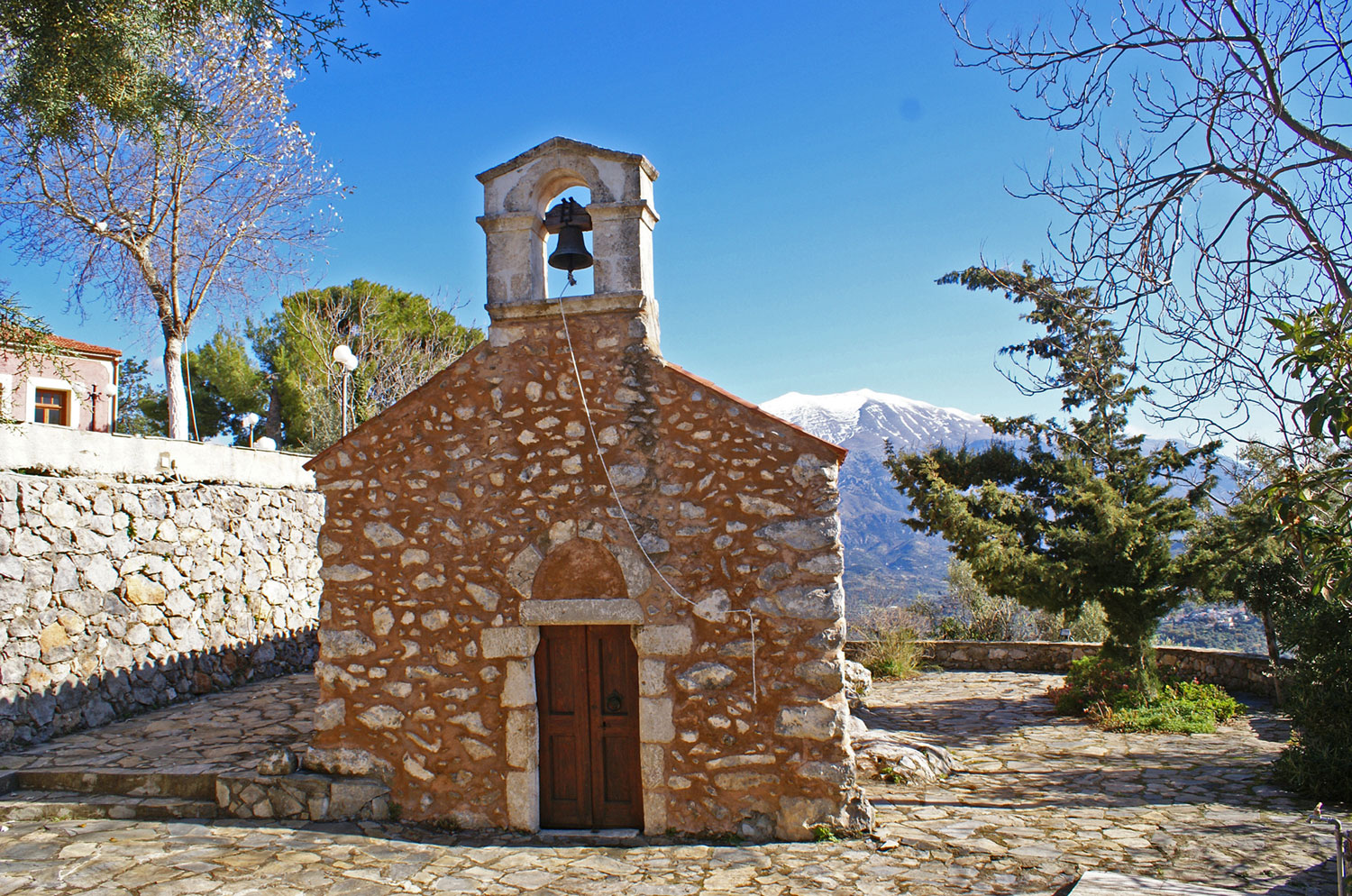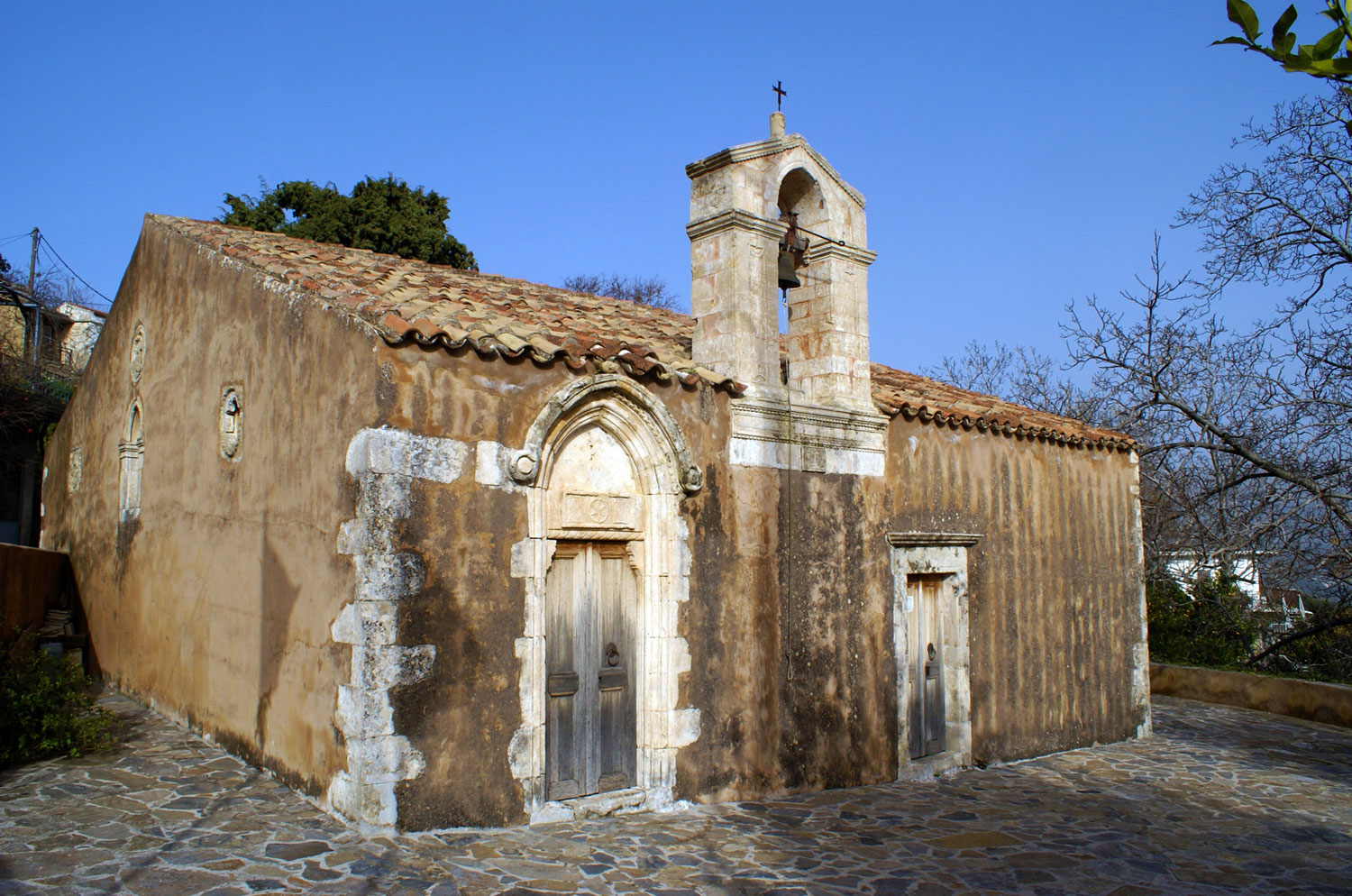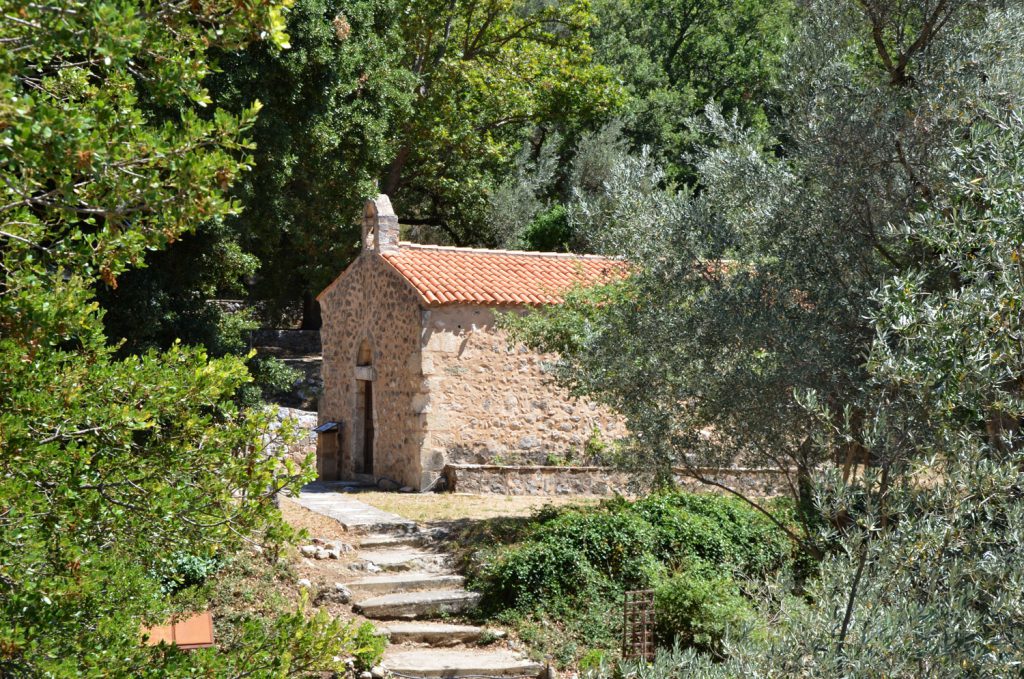 Campsite location and features
Wild Nature Eco Lodge Camp spans 27 acres of forested mountainside, just 700m southwest of Meronas, at an altitude of 630m.
The emblematic feature of the camp is the old church of Saint Nicholas (13th century) standing in the heart of the property. Inside the church there are magnificent frescoes of Byzantine origin and built-in pitchers that create an incredible acoustics.
Nearby, fresh drinking water gushes from a natural spring. Of special interest is the ubiquitous wildlife in the camp with species that pose no danger to humans.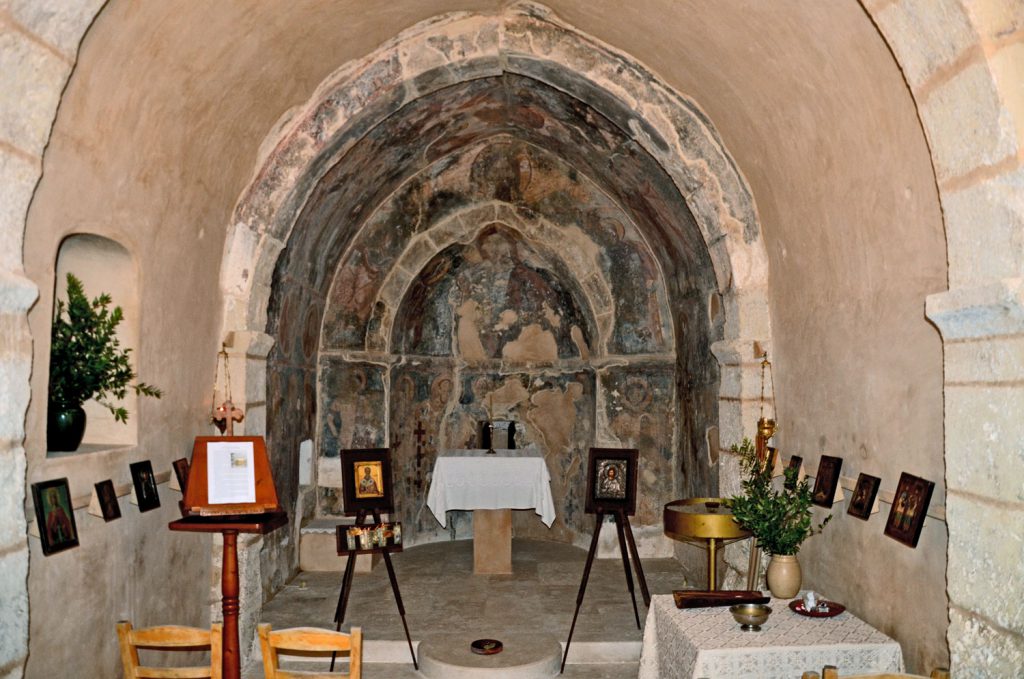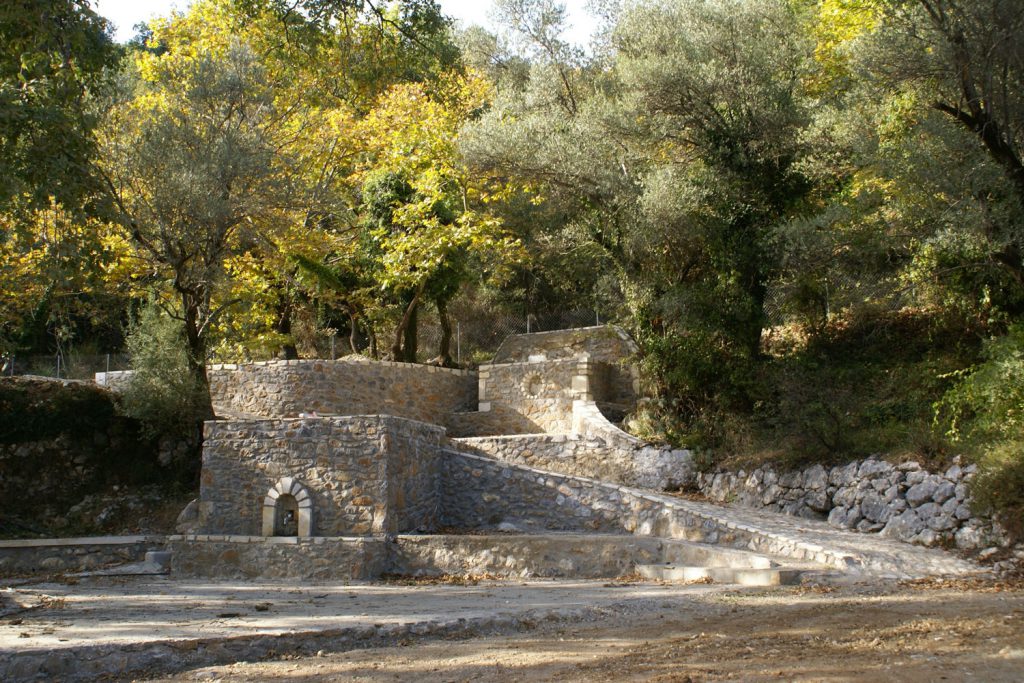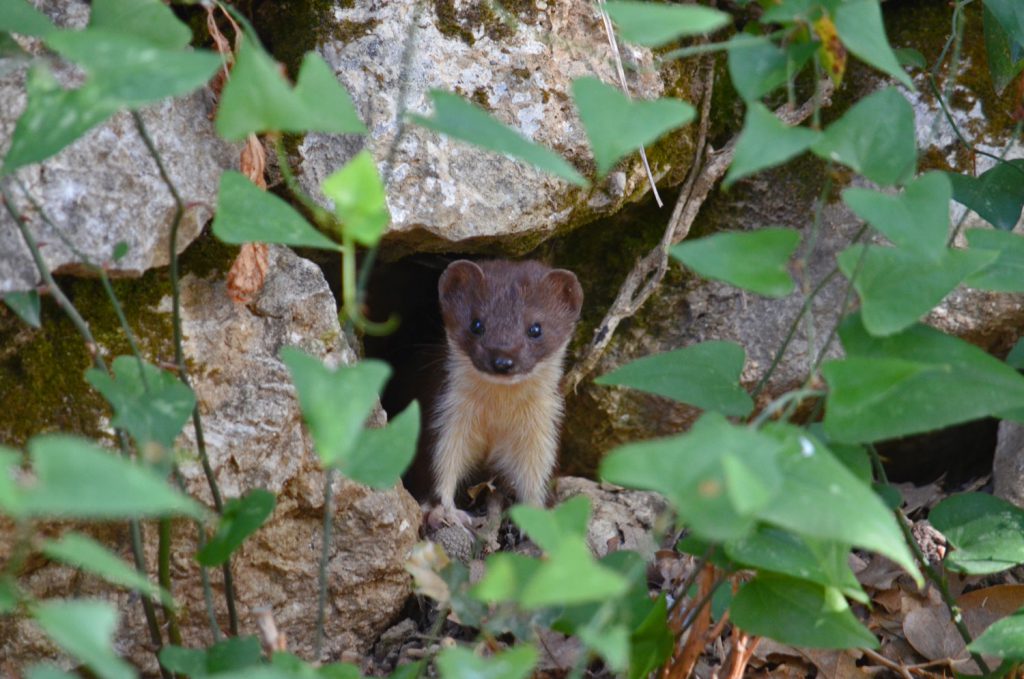 Amenities and Facilities
The campground's infrastructure includes one large and two smaller buildings, with reception room, administration office, kitchen, café, lounge, laundry room, outdoor kitchens and dining kiosks. There are also common bathrooms, wastewater treatment plant, fire fighting system, first aid room, seating in shaded areas and large open spaces for events and outdoor activities.
Inside the campsite there is a well up-dated info point with hiking and cycling routes, as well as themes on Meronas and the surrounded area.
Sorry, pets are not allowed.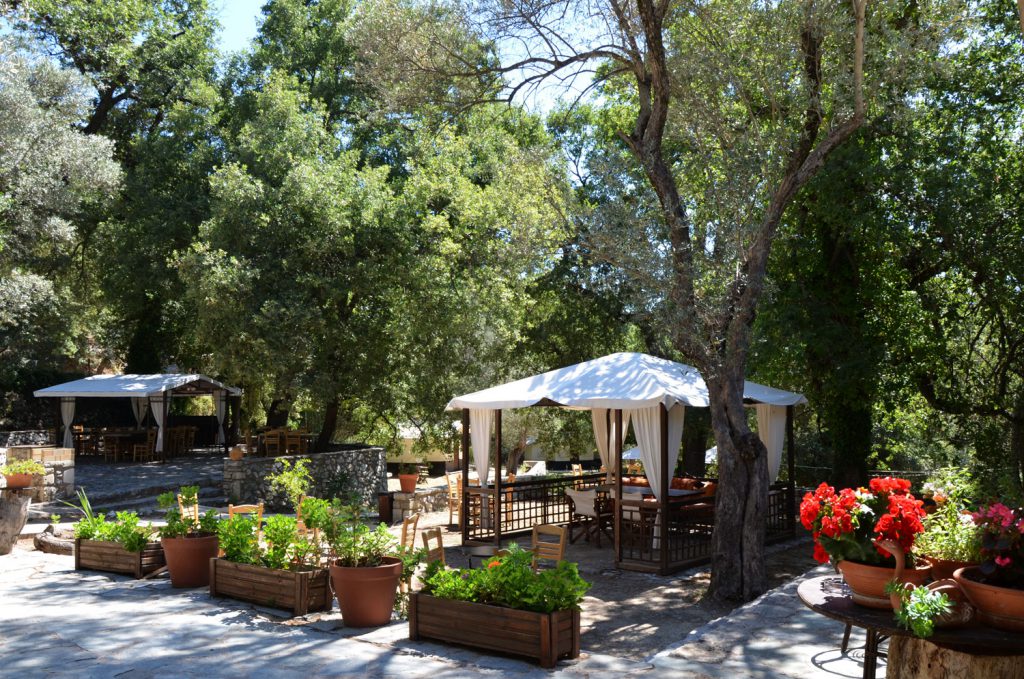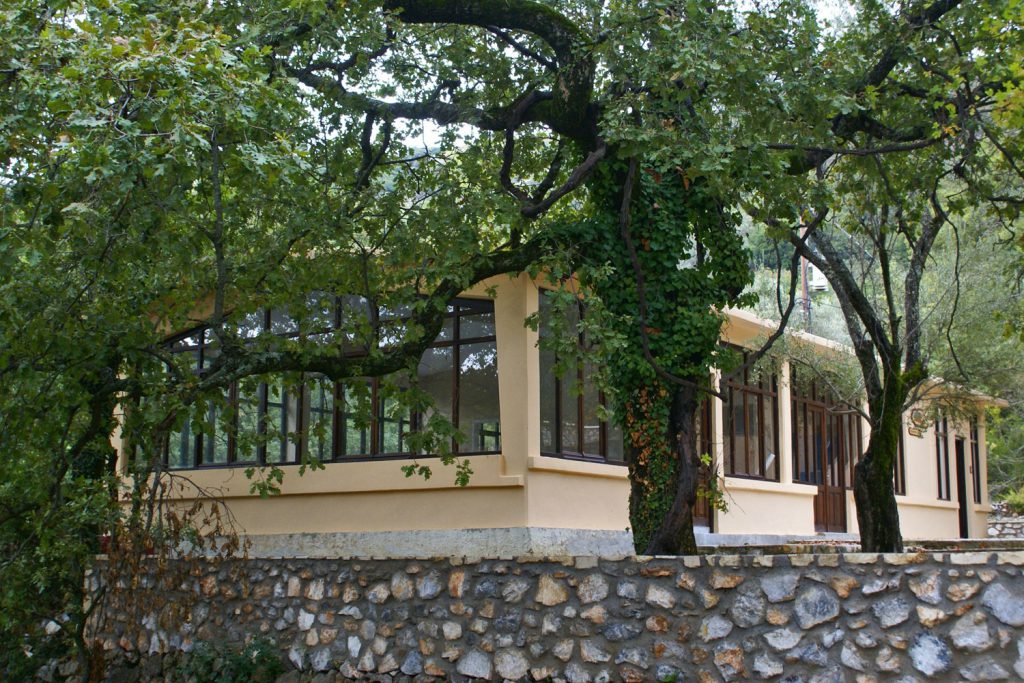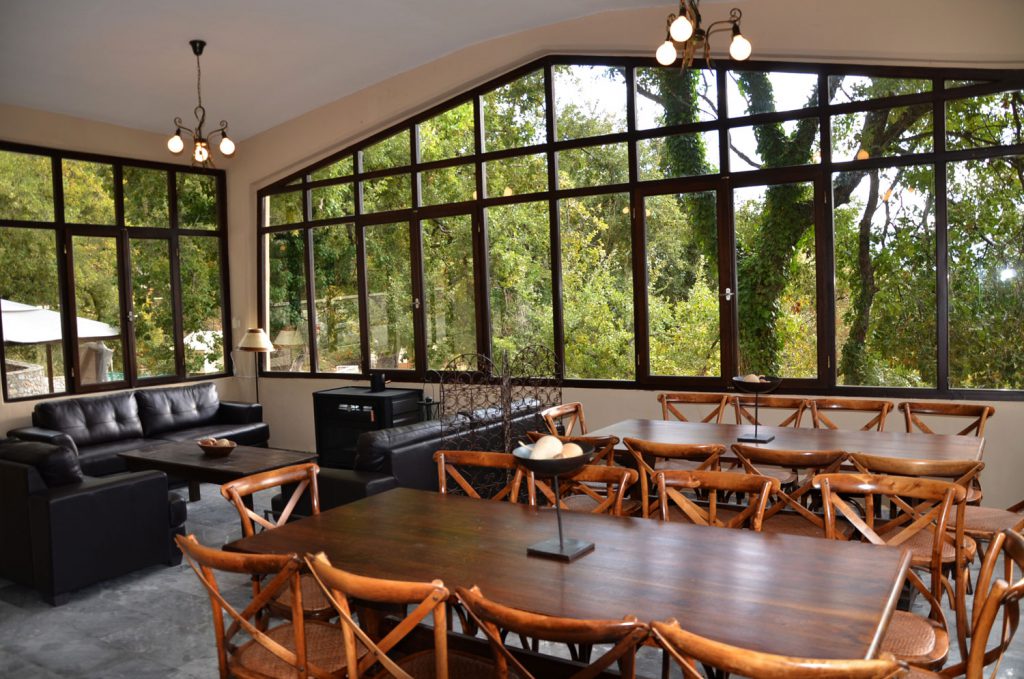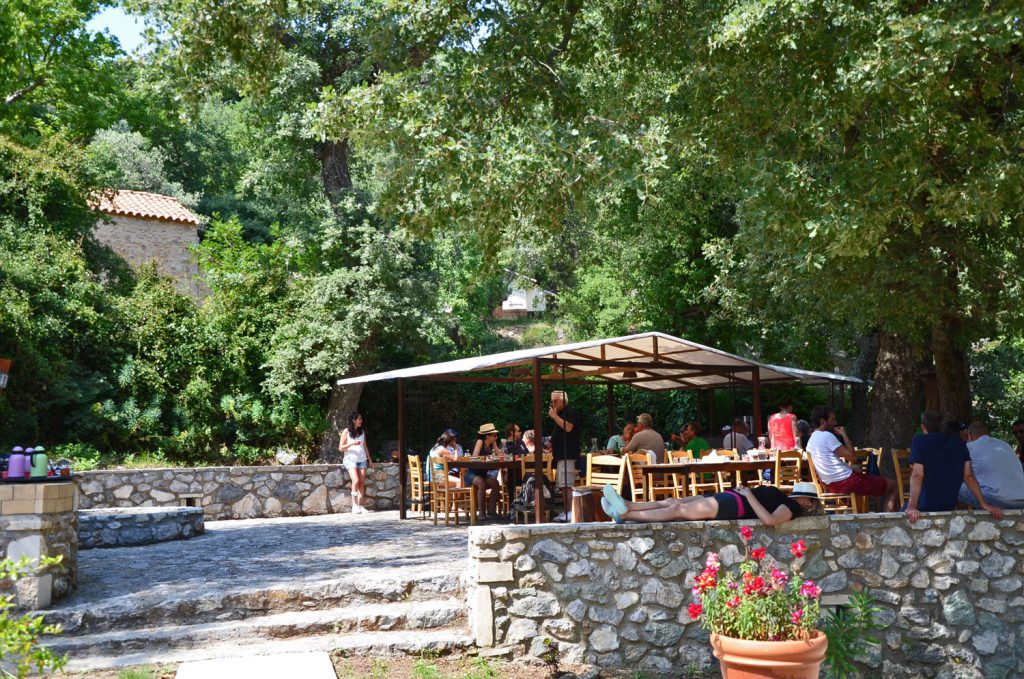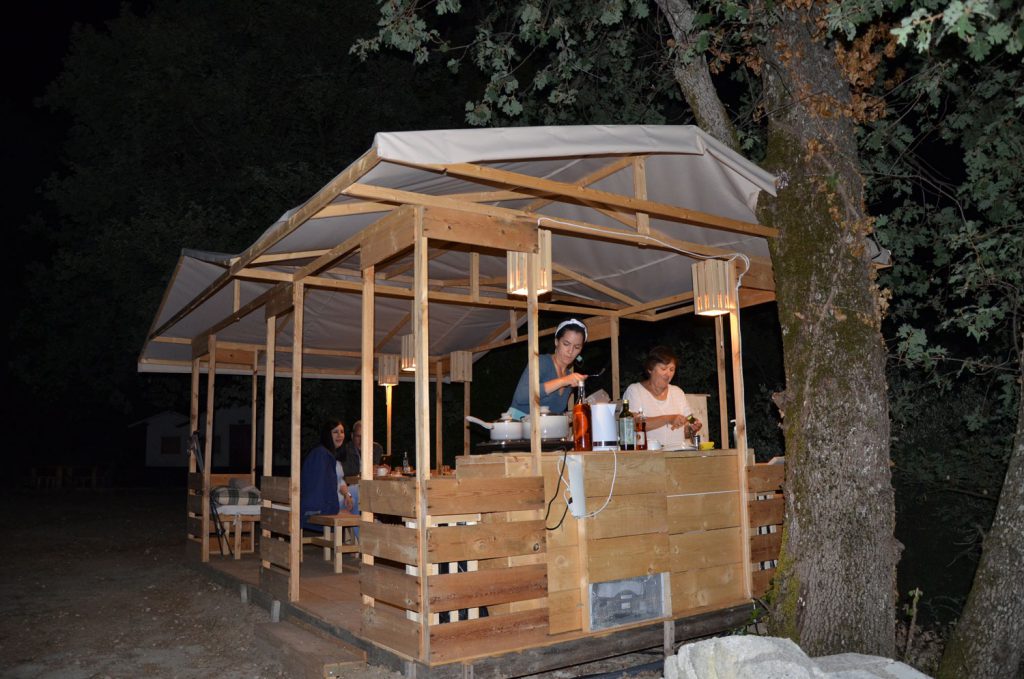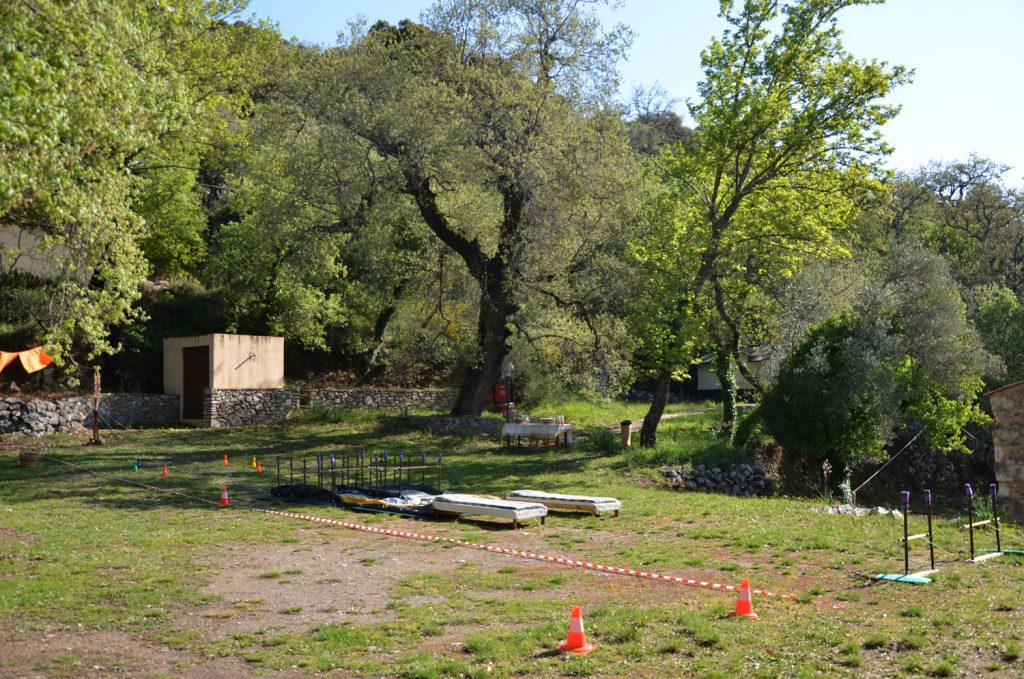 Accommodation
For your stay in our camp you have a triple option:
Renting a comfortable spacious Lodge style tent (including bedding set and breakfast)
Renting a classic tent among different types and sizes (bedding set and breakfast upon request, at an extra fee)
Paying for the plot used for your own camping equipment (tent, camping car or caravan)
Prices 2022
Prices shown below are per overnight, vary according to Low or High Season, and include VAT.
Low season 15/05 to 15/06 & 01/09 to 31/10 | High season 16/06 to 31/08.
Children under 12, reduction 20%.
Outdoor kitchen area, sleep kit and laundry at your disposal, at an extra fee.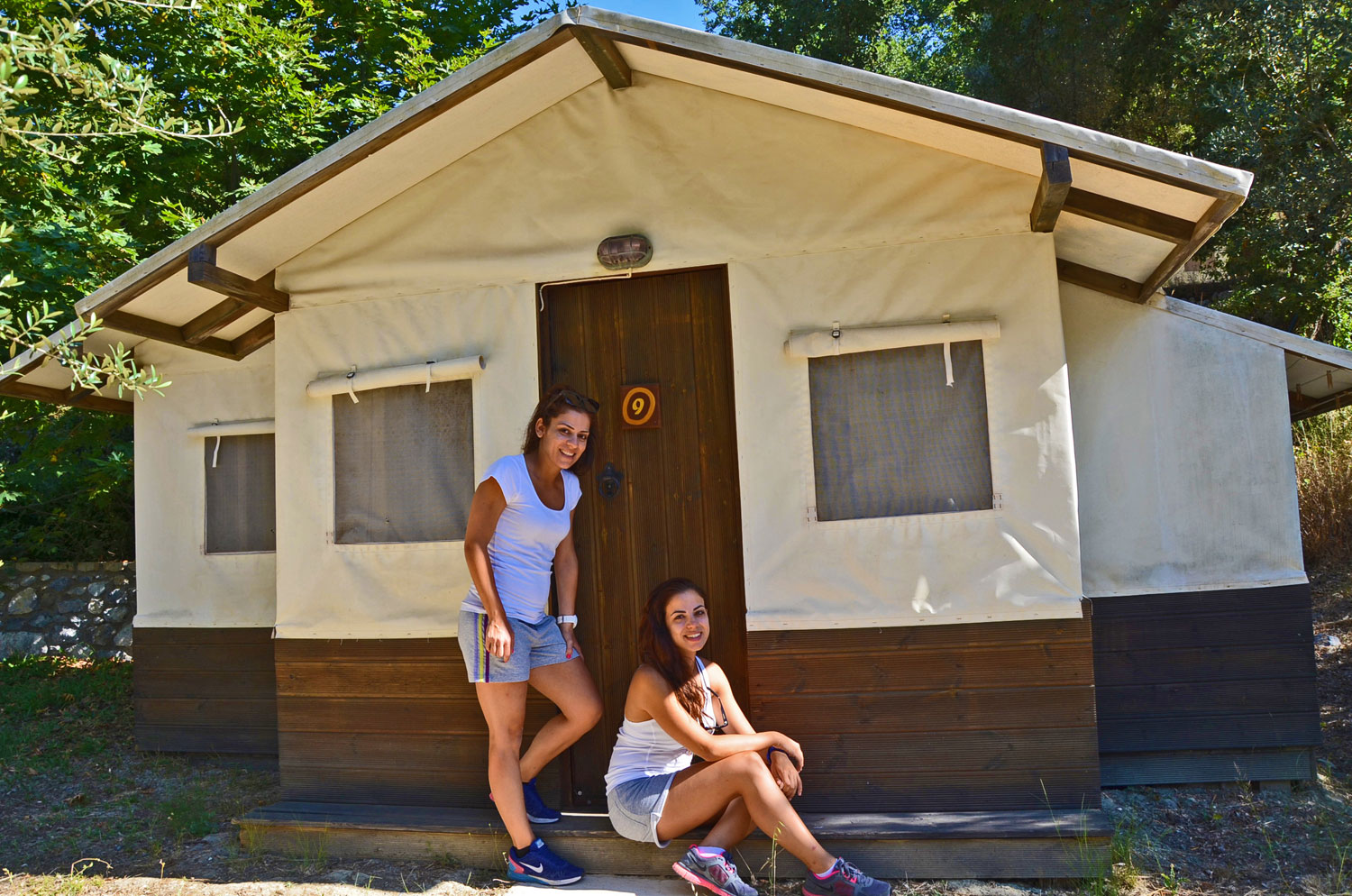 Lodge style tent rental
Low Season
Single/BB 37,00€
DB/BB 52,00€
TB/BB 67,00€

High Season
Single/BB 42,00€
DB/BB 58,00€
TB/BB 74,00€

Prices include bedding set and breakfast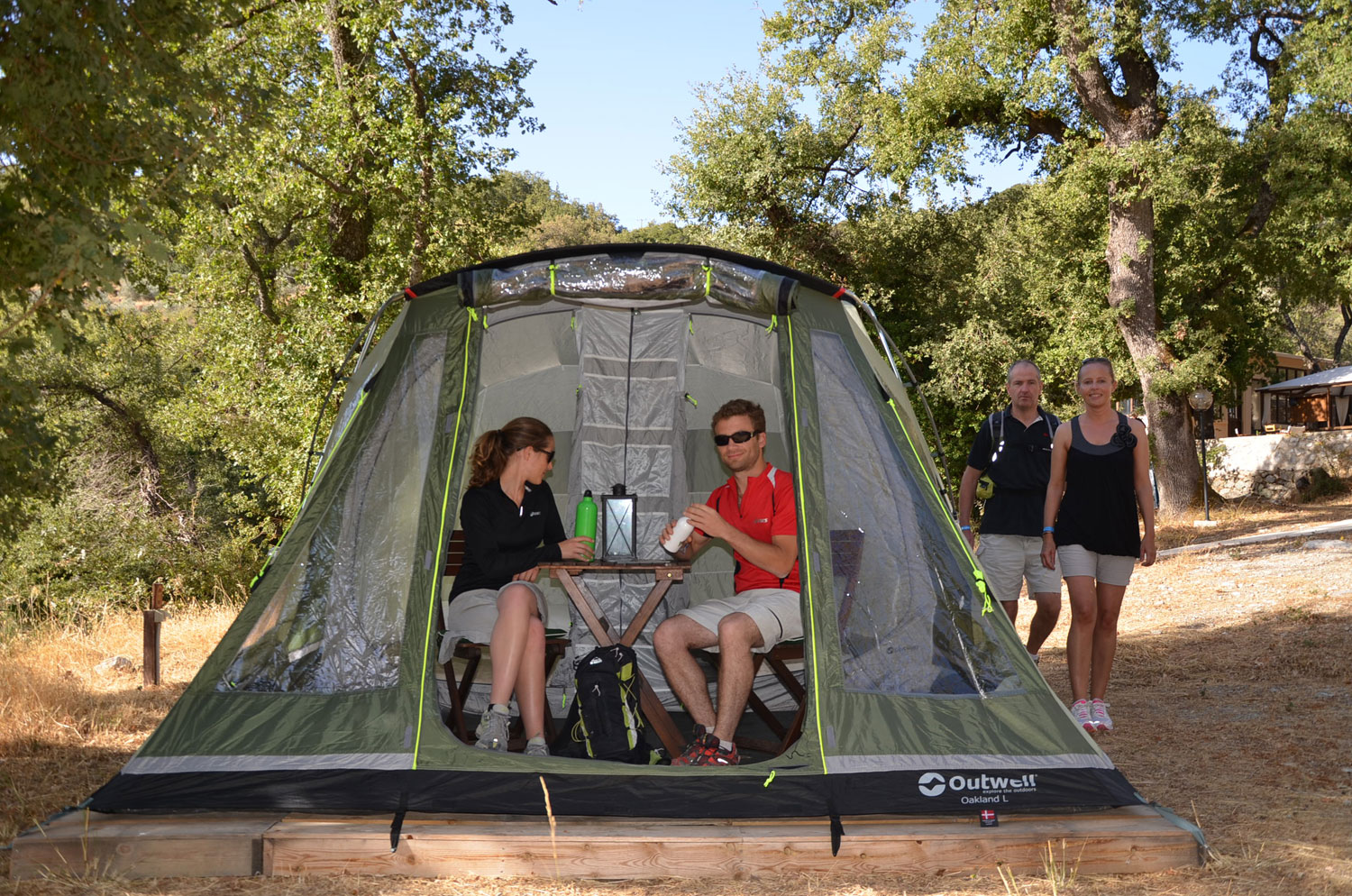 Classic tent rental

Small tent 2,8m²-3,5m²

Minimum stay
3 overnights

Low Season
1 person 23,00€
2 persons 32,00€

High Seson
1 person 26,00€
2 persons 36,00€

Large tent 6,4m²-13,3m²

Minimum stay
3 overnights

Low Season
1 person 26,00€
2 persons 35,00€
3 persons 44,00€
4 persons 53,00€

High Season
1 person 29,00€
2 persons 39,00€
3 persons 49,00€
4 persons 59,00€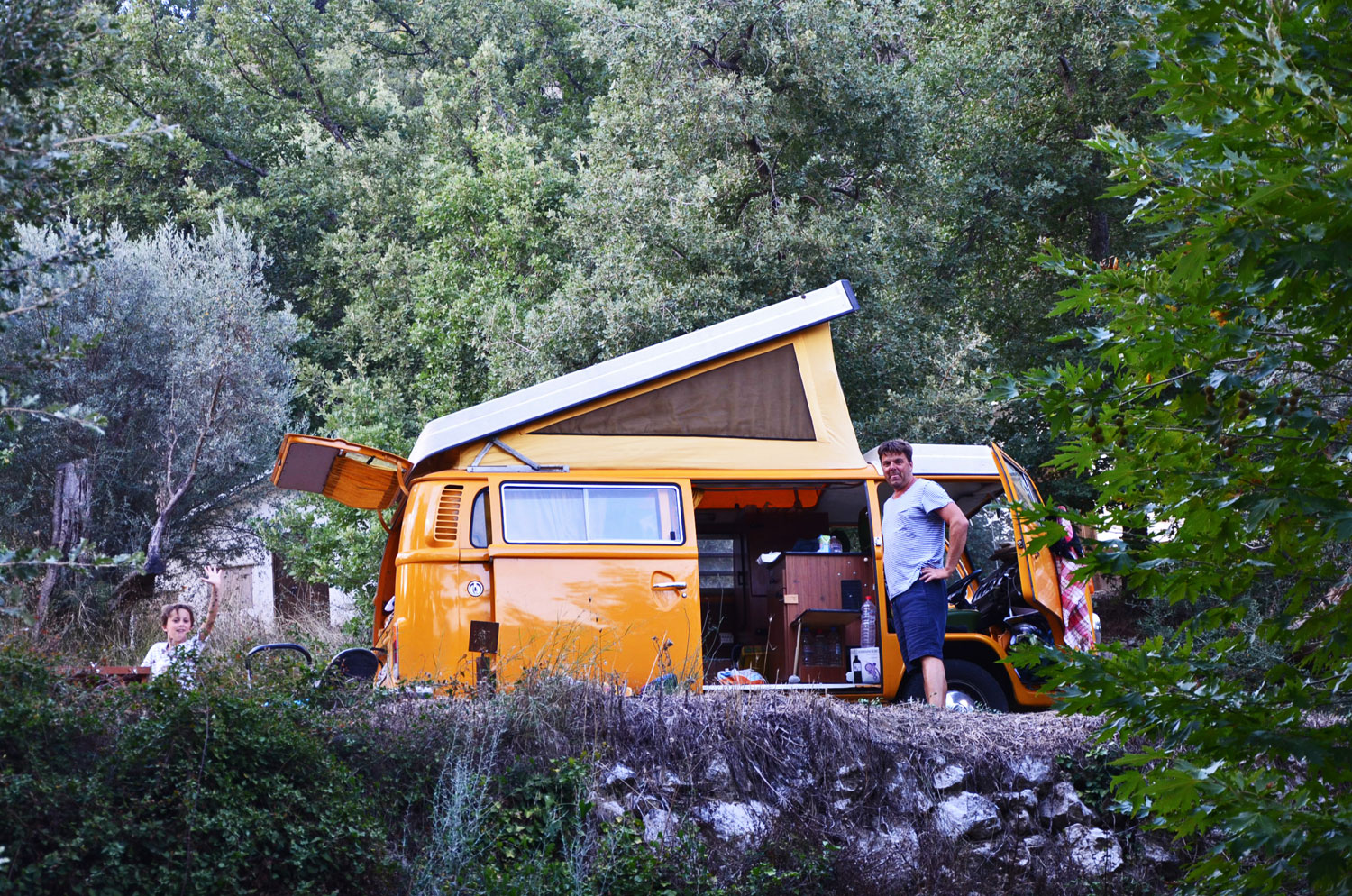 Private motorhome

Camping car

Low Season
1 person 19,00€
2 persons 28,00€
3 persons 37,00€
4 persons 46,00€

High Season
1 person 22,00€
2 persons 32,00€
3 persons 42,00€
4 persons 52,00€

Camping caravan

Low Season
1 person 21,00€
2 persons 30,00€
3 persons 39,00€
4 persons 48,00€

High Season
1 person 24,00€
2 persons 34,00€
3 persons 44,00€
4 persons 54,00€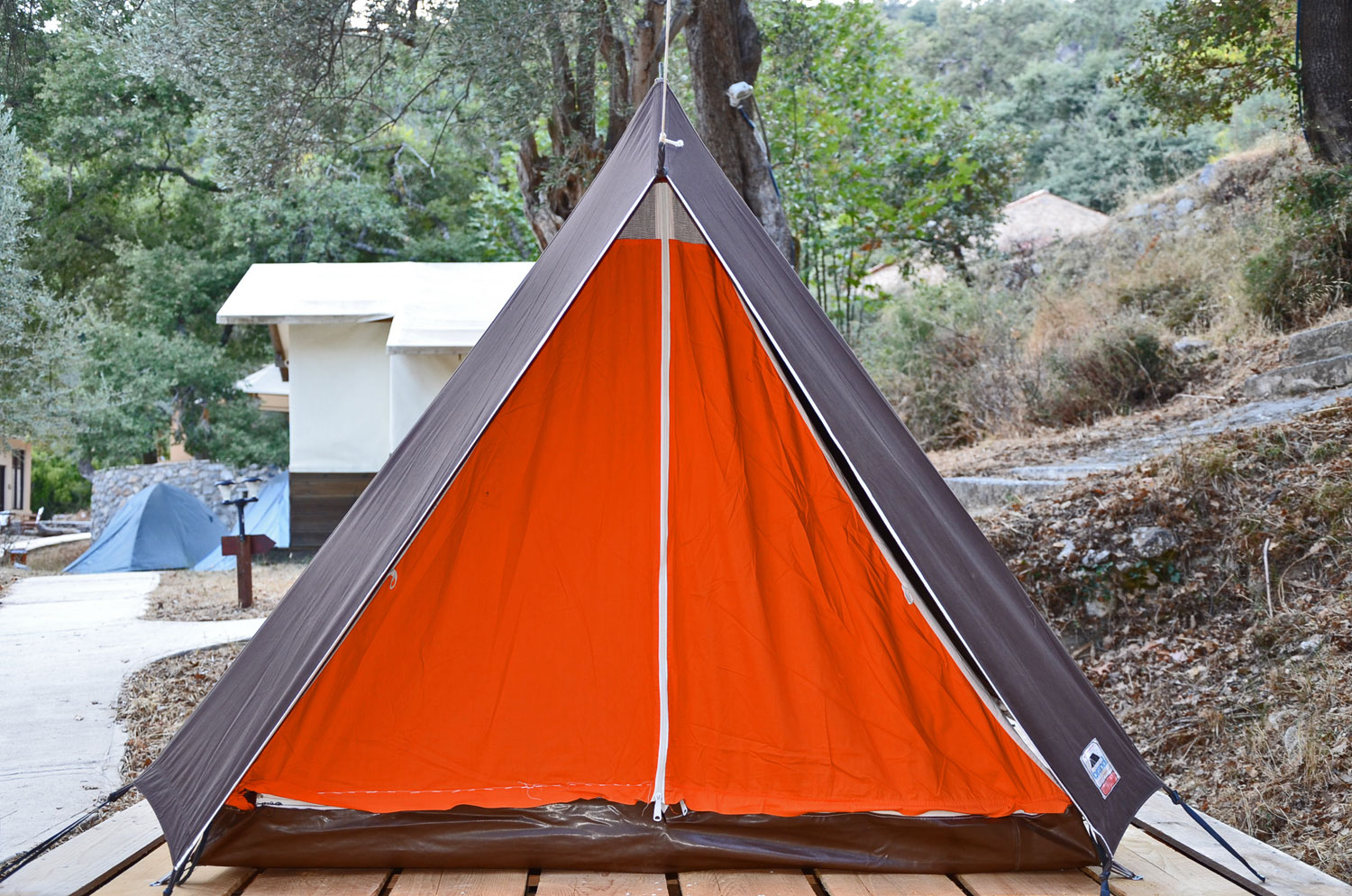 Private tent

Small tent up to 3m²

Low Season
1 person 18,00€
2 persons 27,00€

High Seson
1 person 21,00€
2 persons 31,00€

Large tent Over 3m²

Low Season
1 person 20,00€
2 persons 29,00€
3 persons 38,00€
4 persons 47,00€

High Season
1 person 23,00€
2 persons 33,00€
3 persons 43,00€
4 persons 53,00€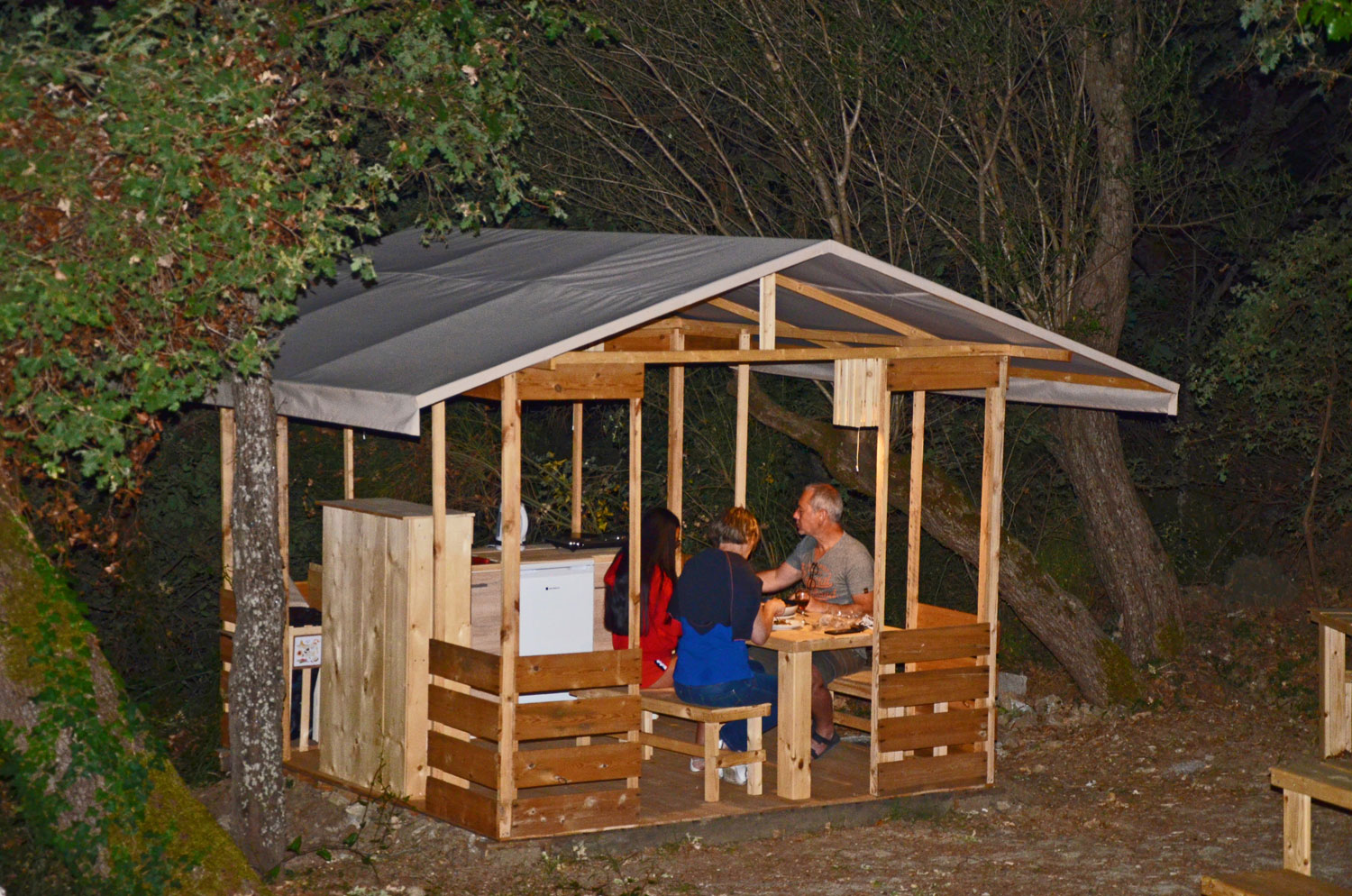 Extra services

Outdoor kitchen
suitable only for cold dishes (salads, sandwiches, etc.)
Price 4,00€
Price is per day and includes share fridge, dishes, cups & glasses, kitchen utensils and dishwashing liquid

Laundry
Price 3,00€
Price is per use and includes detergent

Single bedding set
Price 5,00€
including two single sheets, a pillow, a pillowcase, a blanket, a small and a large towel

Double bedding set
Price 8,00€
including two double sheets, two pillows, two pillowcases, two blankets, two small and two large towels

Lodge style tents
The 17m² comfortable Lodge style tents are equipped with a private bathroom including shower, a double bed, a single canapé-lit, two night-stands and a small corner-desk. Bedding set is also included (sheets, pillows & pillowcases, blankets and towels).
Electric lighting is available in all Lodges.
There are ten Lodges in total, with a capacity of three people per Lodge.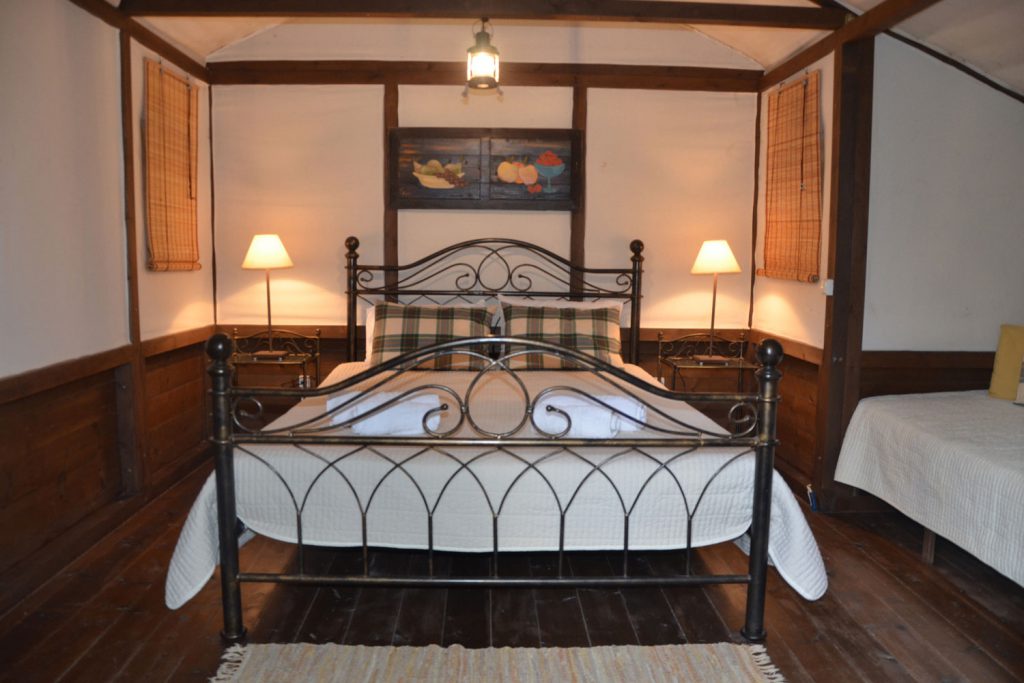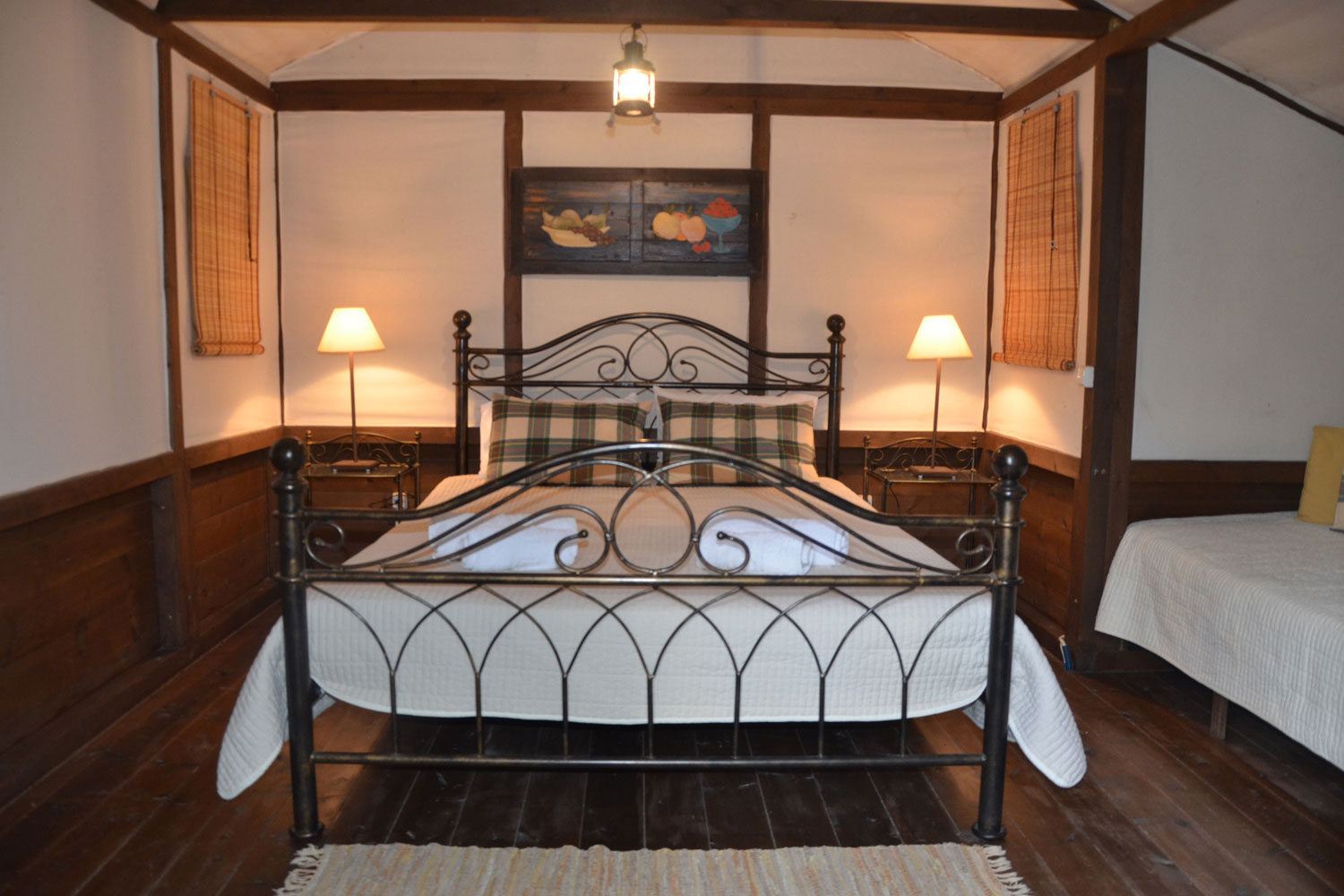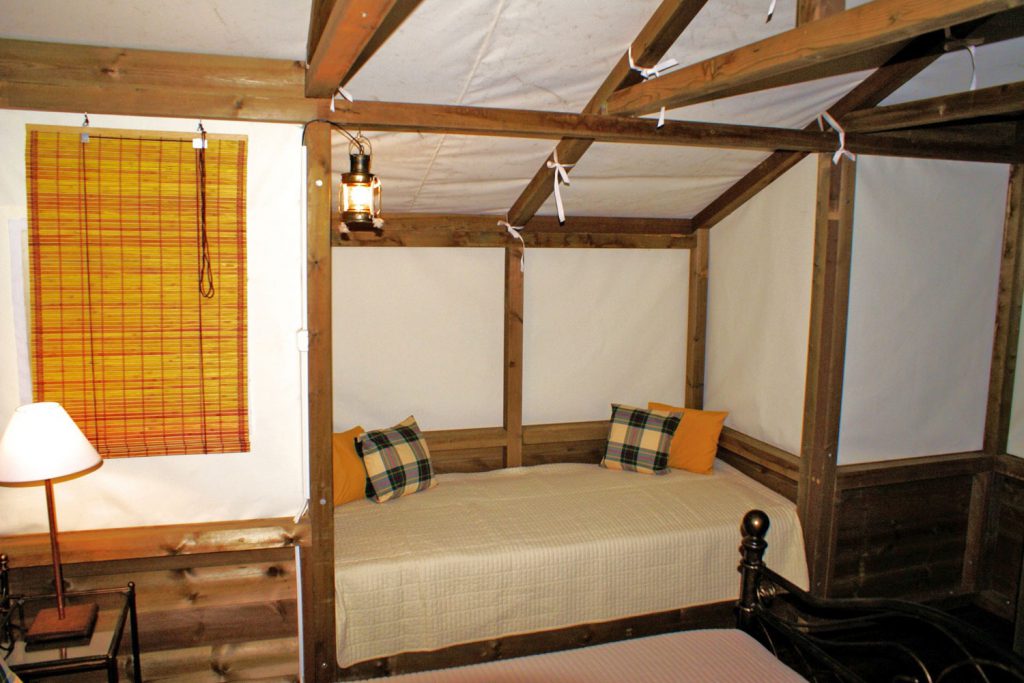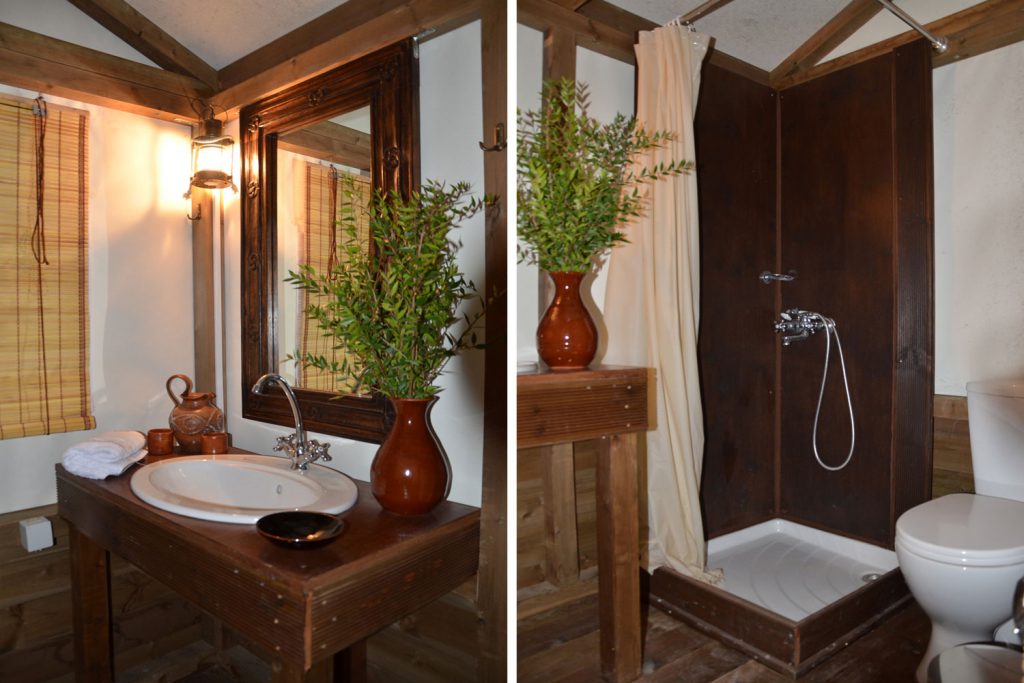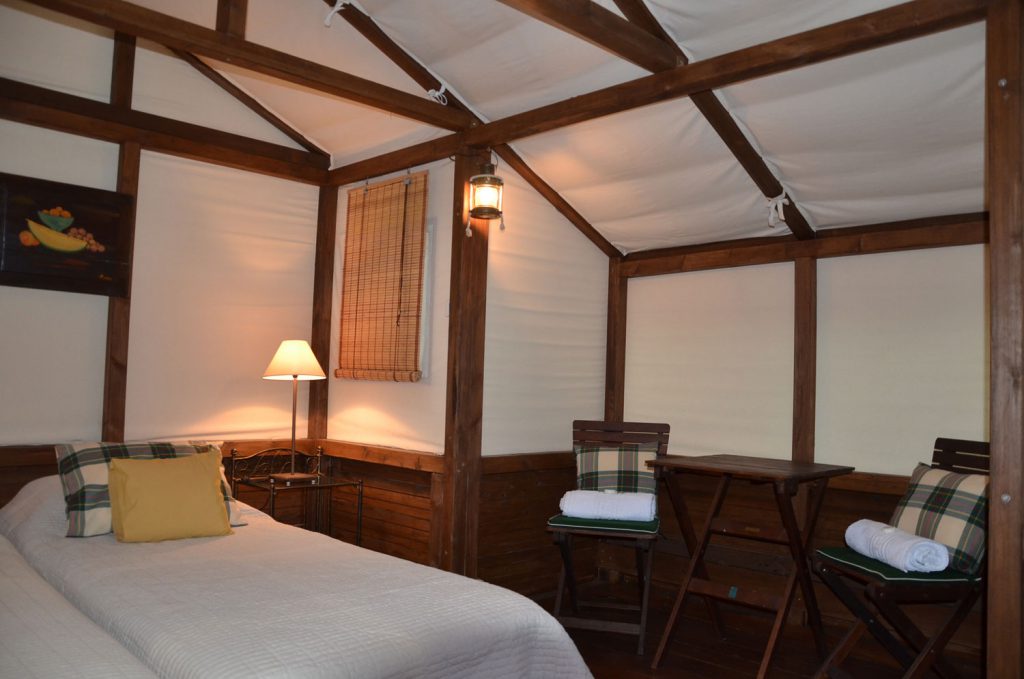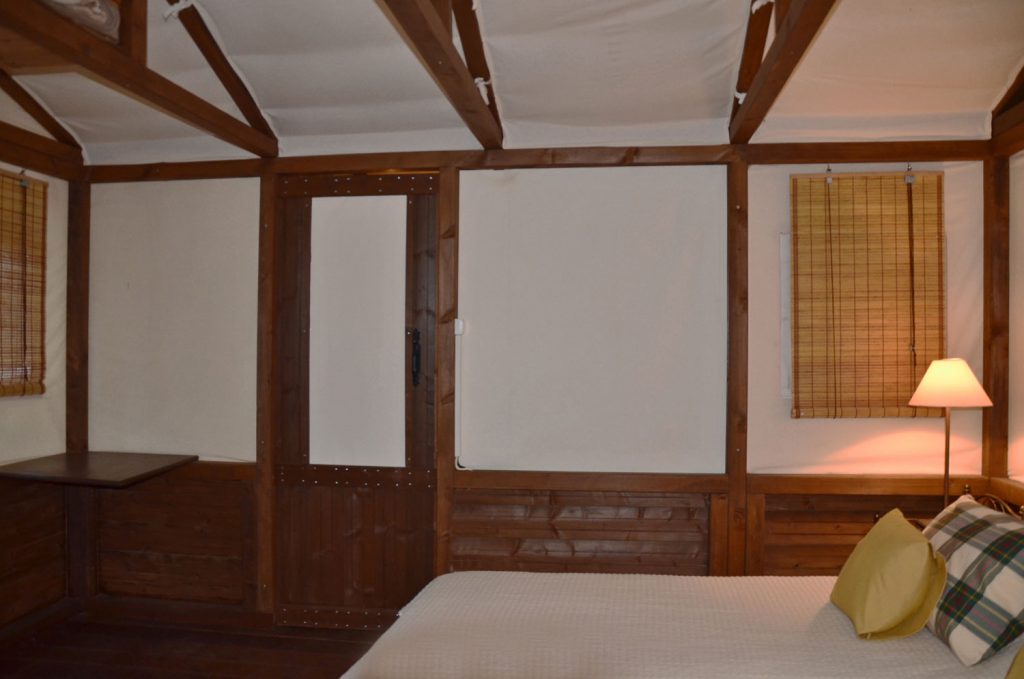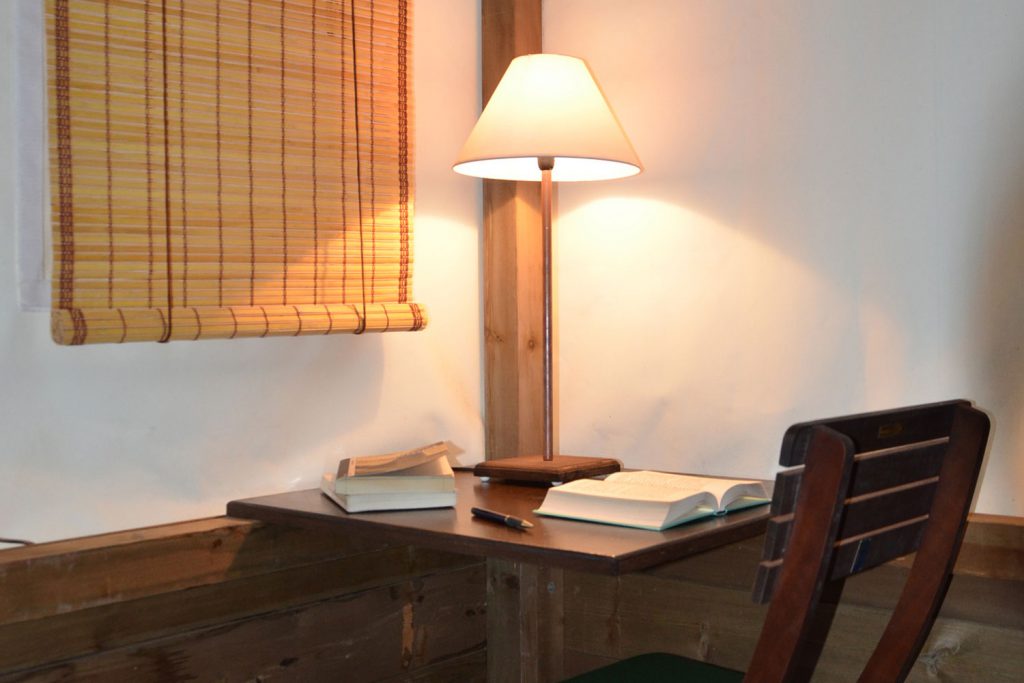 Classic tents (minimum stay 3 overnights)
Classic style tents vary in size from 6,4m² to 13,3m² with one or two rooms. They are all equipped with single camping beds, night-stands, outdoor tables and chairs. Shared bathrooms and toilets are available to tenants in a separate building of the camp. Bedding set and other amenities can be provided for an extra charge.
Electric lighting (12V) is available in all Classic tents.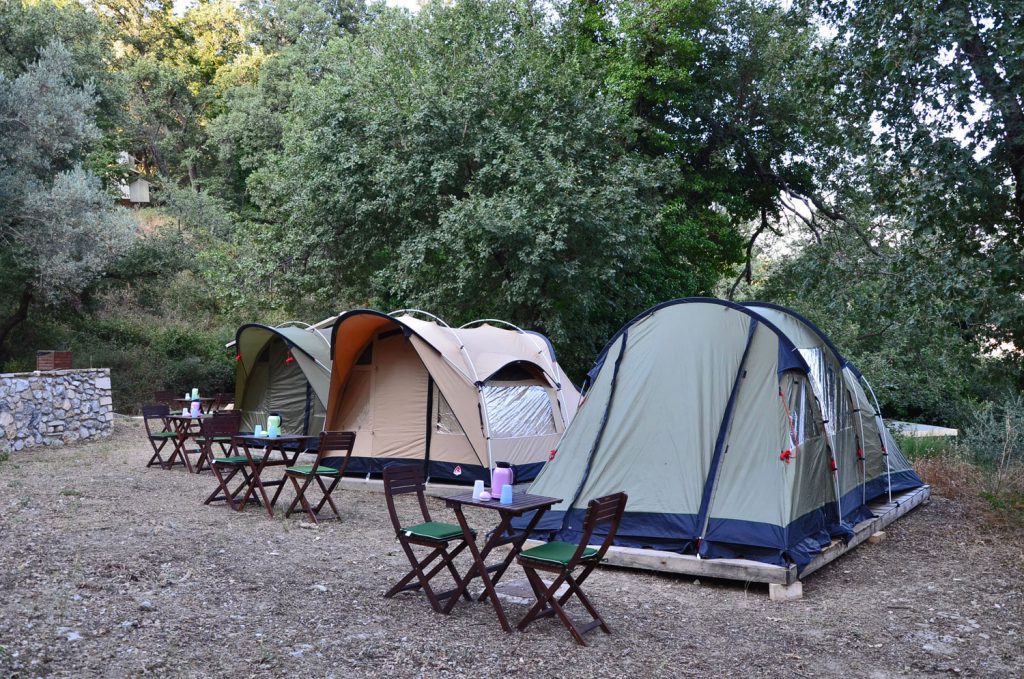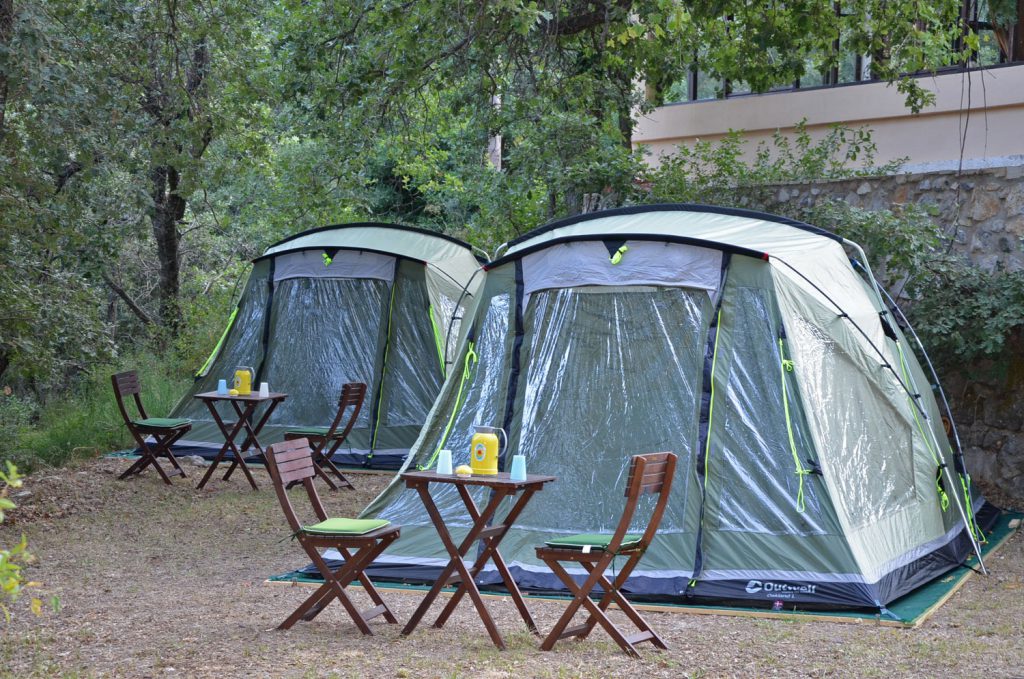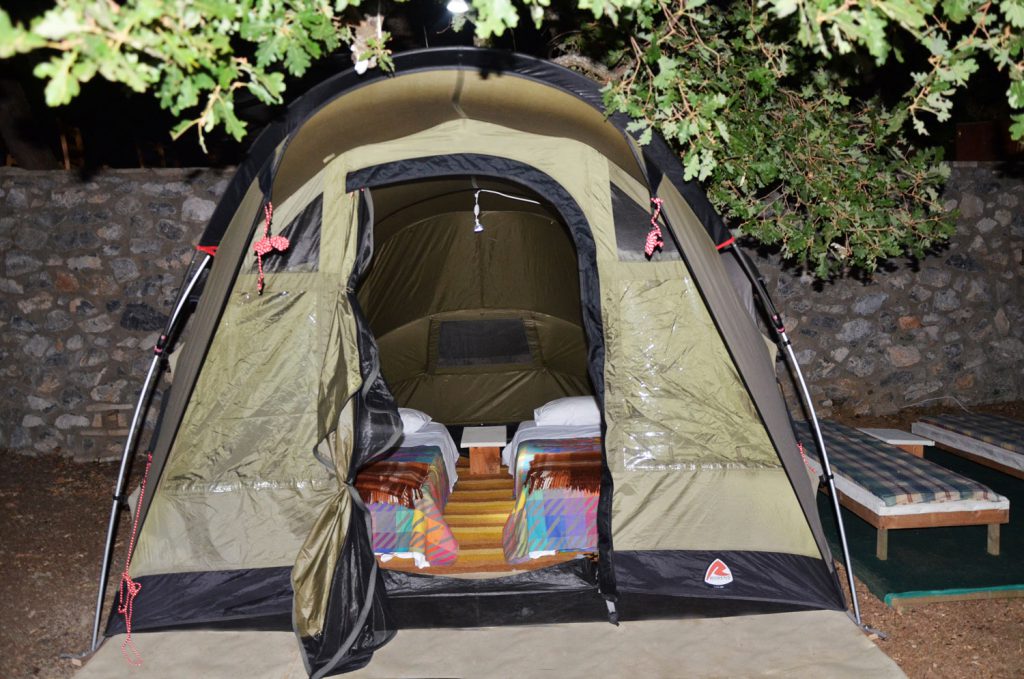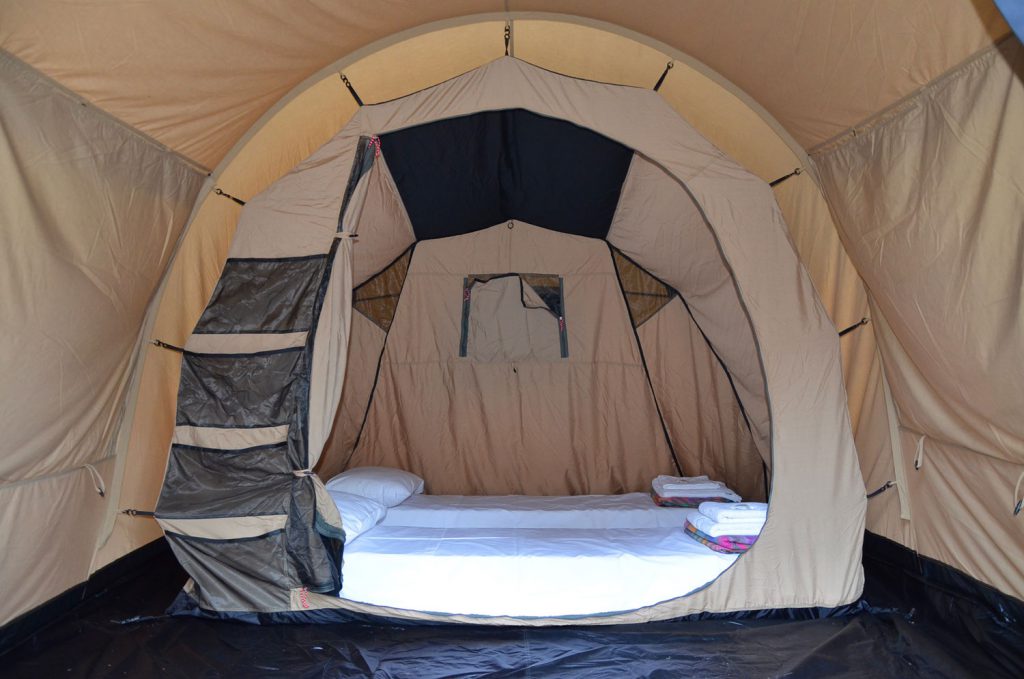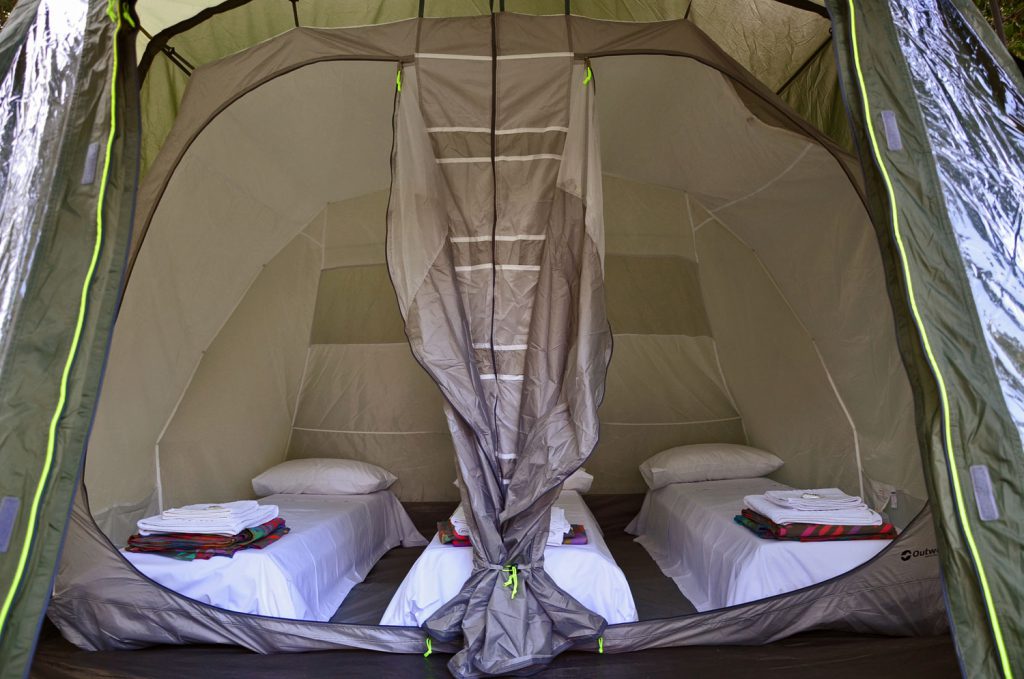 Wild Nature Eco Lodge Camp

A campsite overlooking the west slopes of Mount Psiloritis and the Amari Valley

Diverse nature, high mountains, fertile plains, picturesque villages, old churches, rural life and agriculture comprise the unique scenery around the camp.
The entire estate is covered by oak, plane, olive, carob and myrtle trees.