Rb Route
Agios Antonios – Agios Ioannis – Agios Georgios – Panagia Mavridiani
Discovering old Byzantine chapels
Rb is an extension of the Ra route to the east. It allows you to reach remote areas with dense vegetation, and discover the remains of several interesting old chapels.
The beauty of nature is unique in this route with continuous alternation of a large variety of native trees and olive groves with age-old olive trees.
Route Rb is also the connecting link with the Rc route that passes through the nearby village of Amari.
Note to bikers! In some parts of the trail you will have to carry your bike by hand.
The route at a glance
Start: Point 11 near

Agios Antonios | End: Point 23 southeast of

Panagia Mavridiani
Direction:

Forth /

Back
Distance:


3,38 Km |


3,38 Km
Duration:


1h15′ /


According to your skills
Degree:


leisurely (experienced hikers) /


moderate (skilled bikers)
Altitude: 525m

410m

493m | Drop: +156m -184m


Red line: foot path /

Green line: dirt or paved road.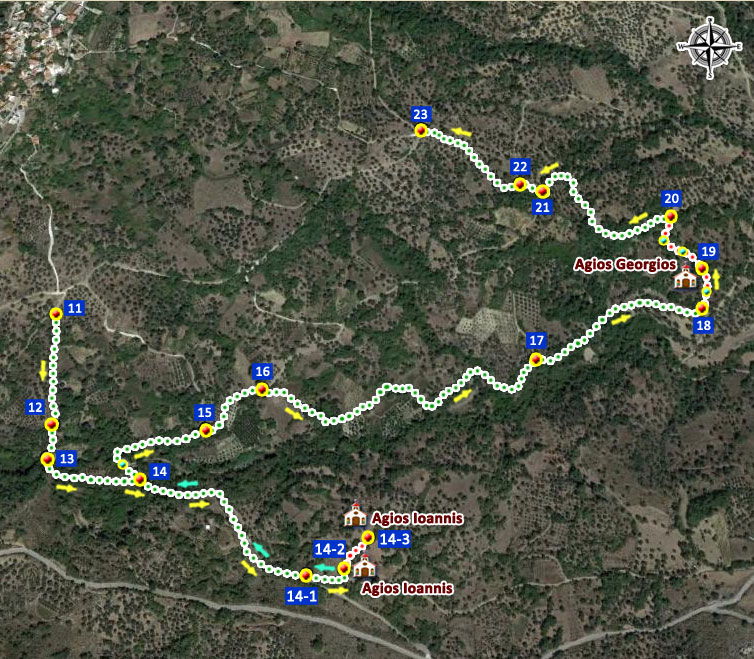 Rb Route localization

Lon 35.227384° Lat 24.637593°
Municipality of Amari 74061 Crete
Route map and elevation profile



Rb Route Road book