Ra Route
Camp – Agios Antonios – Panagia Mavridiani – Meronas – Camp
Discovering the all-green nature southeast of Meronas
Ra Route will take you through the most lovely countryside around Meronas. Even better, if it is combined with route Rb, it features history, religion and many nature stops along the way. Byzantine chapels with magnificent frescoes, remnants of old stone watermills, lush vegetation and a variety of crops (olive trees, walnut trees, cherry trees,…) are the main features that make up the interest of this route.
Note to bikers! Pathways unsuitable for bikes are avoided by choosing dirt road sections.
The route at a glance
Start – End:

Wild Nature Eco Lodge Camp
Direction:

Forth /

Back
Distance:


4,78 Km |


4,35 Km
Duration:


1h15′ /


According to your skills
Degree:


leisurely (experienced hikers) /


moderate (skilled bikers)
Altitude: 628m

492m

628m | Drop: +216m -215m


Red line: foot path /

Green line: dirt or paved road.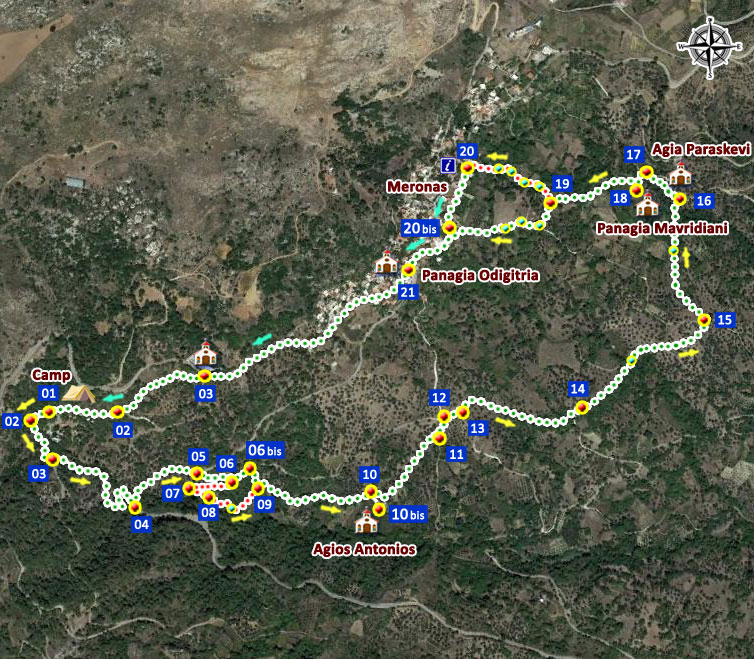 Ra Route localization

Lon 35.230759° Lat 24.634361°
Municipality of Amari 74061 Crete
Route map and elevation profile



Ra Route Road book