Md Route
Agio Pnevma Peak – Skafidia – Prinés Woods – Camp
The shortest return route to the camp
Md is the shortest route to reach the camp after descending from the top of Agio Pnevma.
The downhill road leads initially to "Skafidia" (a beautiful shady place to enjoy your picnic), offering you panoramic views to the south and the valley of Amari. Then it passes through the Prinés woods where it meets the route Ma, and following a downhill dirt road under the shade of dense oak trees it ends at the camp.
The route can also be done by mountain bike.
Suggestion. In combination with the Me route, you have the option of a long circular route (on foot or by bike), of 10,12 km around the Agio Pnevma summit and through Meronas.
The route at a glance
Start: Point 23, west of Agio Pnevma (Holy Spirit) chapel


End:

Wild Nature Eco Lodge Camp
Distance:

3,34 Km (or 2,61 Km via the shortcut from point 13 to point 04) | Direction:

Forth
Duration:


1h03′ /


According to your skills
Degree:


leisurely (experienced hikers) /


moderate (skilled bikers)
Altitude: 870m

628m | Drop: +33m -275m


Red line: foot path /

Green line: dirt or paved road.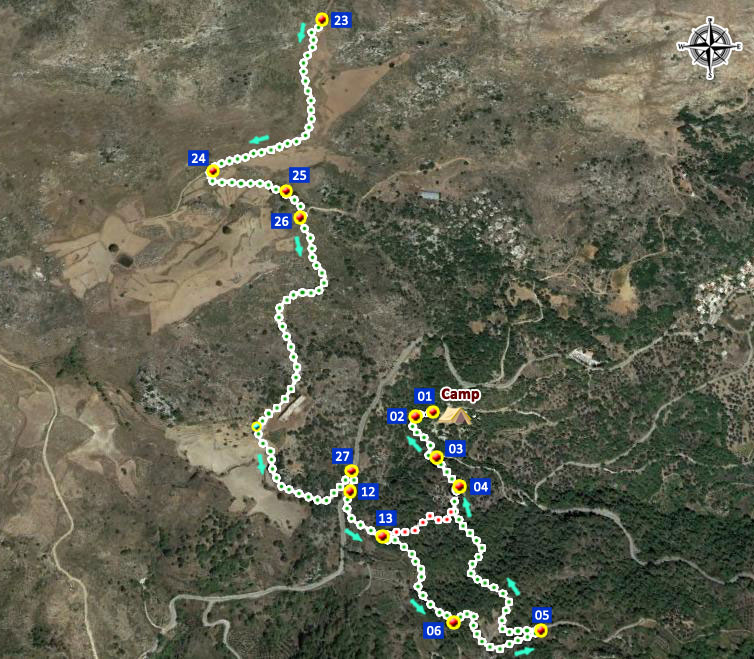 Md Route localization

Lon 35.230608° Lat 24.615652°
Municipality of Amari 74061 Crete
Route map and elevation profile



Md Route Road book