Mb Route
Camp – Koulés fortresse – Meronas – Camp
Panoramic tour around Meronas
A nice and interesting tour on the outskirts of Meronas, combining the discovery of the surrounding nature with the exploration of the village itself.
The first part of the route takes you above Meronas, leading to the peak of Profitis Ilias and the ruined fortress of Koules. The view from this point is wonderful.
The second part passes through Meronas, offering you the opportunity to visit the churches and fountains of the village, to meet the hospitable inhabi-tants and to relax in one of its typical cafes.
The route at a glance
Start / End:

Wild Nature Eco Lodge Camp
Distance:

5,67 Km | Direction:

Forth /

Back
Duration:


1h38′ /


According to your skills
Degree:


leisurely (experienced hikers) /


moderate (skilled bikers)
Altitude: 628m

696m

601m

628m | Drop: +234m -234m


Red line: foot path /

Green line: dirt or paved road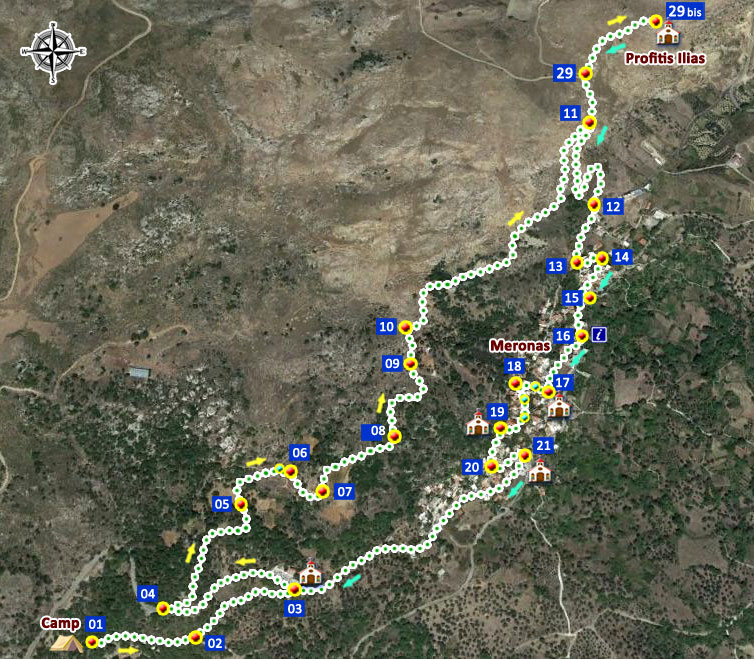 Mb Route localization

Lon 35.237151° Lat 24.629935°
Municipality of Amari 74061 Crete
Route map and elevation profile



Mb Route Road book